D.C. Police Bring a Quick Halt to Carnival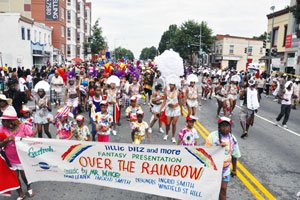 "What they did was unreasonable, I am outraged," a caller to WPFW's Caribbeana program said Saturday night. "Four hours for what takes a whole year to prepare for? This is a festival that should have lasted all day. People were standing around looking for something to do."
"This shortening of D.C. Carnival shows that politicians are sadists and killjoys. They are fascists."
Another caller agreed.
"I was in shock. I got out there at 1 [o'clock] and it was done," she said. "There was confusion. It's unbelievable. I know for a fact that I'm going to be writing to city officials."
Saturday's developments called into question how Carnival is run and had spectators discussing the disrespect they say the Caribbean community received from District employees.
"They need to change management," said a Barbadian man marching behind a truck. "It's getting worse by the year. I am somewhat distressed with the distance. I wanted to see the bands and floats in a full parade. It was too short," said the man who declined to give his name.
A steady stream of callers to WPFW, (89.3 FM), echoed the same sentiment later that night.
Several demanded explanations from Carnival officials, some promised to express their displeasure to District officials and the rest said local politicians would pay come election time.
Ann Walters, whose company handles sponsorships and some public relations activities for the Carnival Committee said committee members have to recognize that Carnival has become an international event, which in her mind isn't a bad thing.
"I would say it's not getting worse, the organization needs an injection of some new and innovative ideas," she said. "You can't think about and apply what you did in the beginning, 19 years ago. You have to adapt and grow and project that growth. The organization has to find people with a different vision that lends itself to the improvement and growth of the organization."
"What needs to be done (with the Carnival Committee) is that they need to bring new people onto the executive committee, such as young people. They also need more women and greater diversity. Then the veterans need to train the new members. The current members can't just step down and give it up. There are relationships they've developed with government officials and sponsors and institutional knowledge that needs to be passed on."
Walters, a Ward 4 resident, said a critical component is to revamp the board of directors and invite new members with fundraising skills and extensive contacts so that the issue of raising money is properly addressed.
She said the D.C. Carnival is a window to the world that now embraces a melange of cultures and ethnicities including Africans and others outside of the Caribbean and sponsors now have a different target group beyond those of Caribbean heritage.
Despite its problems, Carnival is still an event that's widely embraced.
"It's fun, I represent my country and I get out there and have a good time," said Dominique Jordan who marched with the Wisdom Masqueraders.
After the parade, four people were shot - one fatally. According to published reports, Assistant Police Chief Diane Groomes said the shooting was not connected to the parade or Howard University. Investigators think it was a result of a neighborhood issue, she said.