Despite Issues, Riders Stand by Metro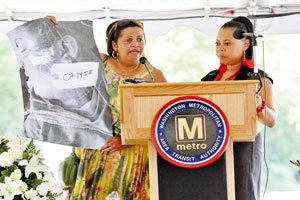 Two years after the worst crash in the history of Metrorail, its customers are standing by the transit agency despite ongoing problems with delays and high fares.
"I have a great deal of confidence in Metro," said George Whitfield, a commuter from Arlington, Va., who takes the train into downtown Washington to his job. "I have taken Metro for a number of years, both the rail and the bus and it seems to work most of the time fairly well."
Whitfield, 53, said that he doesn't own a car and like hundreds of thousands of District residents and suburbanites use Metro exclusively for travel. Metro is the second-busiest rapid transit service in the country, after New York City's and has a weekday ridership of 771,055, according to the agency's April 2011 statistics.
For decades, Metro had a reputation for providing efficient service on the bus and on the rails. The stations were noted for their cleanliness and lack of criminal activity.
However, Metro's reputation took a serious blow on June 22, 2009 when two trains collided on the Red Line. A southbound train headed for the Shady Grove Metro Station stopped on the track short of the Fort Totten Station in Northeast, and another southbound train crashed into its rear.
The collision caused the deaths of nine people and more than 70 were injured. It was later revealed through an investigation that one of the train operators was texting while driving the train.
Experts from the National Transportation Safety Board (NTSB) made recommendations to the Metro board that new cars needed to be purchased, the equipment on the tracks required an upgrade and better oversight of personnel was strongly encouraged.
A ceremony marking the two-year anniversary of the tragedy took place on Wednesday, June 22 at the Fort Totten site.
Anthony Garland, the safety officer for the Amalgamated Transit Union Local 689 in Forestville, Md., said that Metro officials have not heeded NTSB's recommendations.
"WMATA does not get it," Garland, 50, said. "What happened two years ago was very unfortunate but we deal with safety concerns every day. We hear from our members that the management does not value safety."
Garland, a resident of Temple Hills, Md., said that when an accident occurs, Metro management
does not address the causes of the mishap.
"What they do is issue a report and discipline the employees who they found to be at fault," he said. "They really do not look into why the accident happened and take measures to make sure that it does not happen again. The management of Metro only wants to act in an emergency, not on a daily basis."
There are other concerns about Metro.
In 2010, Metro instituted the largest fare hike in its history, causing many riders to change the way they travel and to dig deeper into their pockets to pay for service.
Tanard Hill, a resident of Northeast who recently moved from Cheverly, Md., said that riding Metro is becoming a hassle.
"It seems like the Red and Green Lines are always having problems," Hill, 29, said.
"The trains on those lines seem to be delayed more and the escalators seem to break down on those lines."
Whitfield's solution to Metro's problems involves better oversight.
"Inspect, inspect, inspect," he said. "Check and double check all the time. Have people check the checkers and it should be done with military precision."
Hill said that he supports Metro and wants to continue to use the system, but needs to see improvement.
"There was a time when Metro was a bargain for your money but that is not the case now," he said. "It seems like fares are going up every year but the service is not improving. Metro should and needs to do better."