Residents East of the River Turn to Bikes
Elton Hayes | 6/29/2011, 11:55 a.m.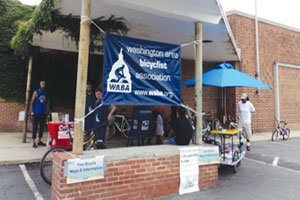 Local Group Helps with Bike Outreach
Recently, residents who live in Wards 7 and 8 grabbed their gear, filled up their water bottles and headed for a popular destination in the hopes of getting a free service that could make their lives considerably easier and healthier. They braved the heat to be first in line. But this time, the preferred mode of transportation wasn't a car. Most coasted over to Skyland Shopping Center in Southeast on bicycles.
More than 50 bike aficionados attended the Washington Area Bicycle Association's (WABA) Mobile Bike Shop, on Sunday, June 19. Many made it a family affair. They brought in their trusty chariots - mountain bikes, racing bikes and children's bicycles - to be nurtured back to health.
Tyra Blake, and her 10-year-old son, Wayne, biked from their Fairfax Village neighborhood to have Wayne's bike serviced.
"Biking is much healthier and I enjoy it better than driving. His dad is deceased and we're just riding in the name of his dad. His dad loved riding and encouraged him to ride," said Blake, 45, on a picture perfect Father's Day.
Wayne watched intently as a mechanic fixed his flat tire and installed a new inner tube. When finished, the youngster repeated the safety tips provided by his mechanic with unbridled enthusiasm.
WABA's Mobile Bike Shop, was conceived as part of the organization's East of the River initiative, and specifically caters to those residents in need of bike repairs.
As gas prices continue to soar, many are turning to bikes as an alternative mode of transportation. However, regular access to a functional bike is more difficult for some than others. Capital Bikeshare currently has 11 stations east of the Anacostia River, but the $75 annual membership fee prevent some from joining.
Cyclists who live in Wards 7 and 8 also face challenges that aren't present elsewhere in the District. Issues such as the lack of bike racks, inadequate bike trails, and the scarcity of bike lanes pose legitimate obstacles to bikers.
"There are hardly any bike lanes. We need them. We need them badly," Blake said.
Dupree Heard, WABA's outreach coordinator, works to increase bike ridership exclusively in Wards 7 and 8. Heard has seen first-hand the challenges bikers in the two wards face.
"I don't like the fact that this is an area of the city where there are fewer riders. It's not principally the residents' fault; there aren't a lot of opportunities to ride down here. We [WABA] want to give them the opportunities that [a great deal] of the city has [already received]," Heard said.
"The bike lanes are less satisfactory than they are in the rest of the city. I feel as if other wards have the majority share of the lanes."
In addition to serving as a transportation alternative, family biking has also provided parents the opportunity to engage in a shared activity with their children.
Deborah Smith, 39, brought her three children along to Sunday's mobile bike shop. Smith said that she rides with her children to and from school, and thoroughly enjoys doing so.