Shiloh Baptist Church Health Fair Focuses on Black Men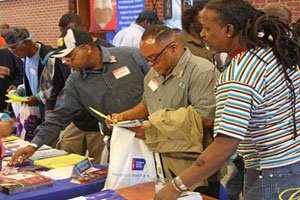 Rosa Jeter picked up a jump rope from a table of exercise accoutrements that included weights of various sizes and a padded leather ball generally used by athletes for strength training and conditioning. She adjusted the rope, slipped off her shoes and effortlessly began jumping rope with the dexterity of a teenager.
Certified Physical Trainer Sheryl Thompkins offered advice and encouragement, marveling at how well Jeter handled herself.
Thompkins, 54, said she wishes more black men would commit themselves to a regular regimen of exercise and proactive health care.
"Black men play games like basketball to see if they've still got it. They are pushed by their egos, wear the wrong shoes and hurt their ankles or knees, then they stop," she said. "A person may look good but how far can [he or she] run without losing their breath?"
"Our bodies aren't ours. [They belong] to God. The least we can do is take care of our temples," said Thompkins, who has been working out for 25 years.
It has become conventional wisdom that a black man won't go to a doctor until he is near death or dying. That generally accounts for the unusually high number of mortality rates from diseases that if detected early are not necessarily fatal. Prostate cancer is one such example. A research study commissioned by the H. Lee Moffitt Cancer Center and Research Institute, Inc. in Tampa, Fla., entitled, "Culture, Black Men, and Prostate Cancer: What Is Reality?" notes that prostate cancer is the leading cancer diagnosed among men in the United States. And black men in the United States continue to have the highest incidence of prostate cancer in the world -- 180.6 per 100,000 people. Further, between 1996 and 2000 in the U.S., the age-adjusted death rate of prostate cancer among black men was more than double that of non-Hispanic white men.
According to the National Black Men's Health Network, the average black man barely lives long enough to collect his social security; the death rate from cancer among black males is twice that of white men; and the death rate for black men as a whole, is higher than that of any other major group in the population.
It is these and other troubling statistics that has spurred the Brotherhood of Shiloh Men to sponsor the Men's Health Tune Up for the past 13 years. Scores of men from the surrounding community and male and female members of the Northwest church participated in the health fair on Saturday, June 18.
"Every year we've done this, we either get someone who discovers he has prostate cancer, diabetes or high blood pressure," said Robert Bates, 77, chairman of the Brotherhood of Shiloh Men. "The value is information and knowledge [the men] did not have before the health fair. We are providing access to people who would not otherwise come here. We still have a bunch of people who should be showing up who don't."
The tragedy, Bates said, is that most men don't know they have a prostate and what it does.