Shiloh Baptist Church Health Fair Focuses on Black Men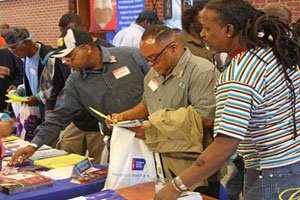 The Brotherhood of Shiloh Men has sponsored the Men's Health Tune Up for the past 13 years. / Courtesy photoAlthough it was Father's Day weekend, as many women as men attended the health fair.
Among the vendors in attendance were the American Heart Association; the American Kidney Fund, which offered blood pressure, blood and cholesterol screenings and other tests; Howard University School of Dentistry; the Minority Organ Tissue Transplant Education Program; D.C. Healthy Families and the George Washington University Cancer Institute.
Tables were set up on the periphery and in the center of the spacious Henry C. Gregory III Family Life Center Gymnasium. Thompkins led a group of adults in exercises accompanied by Gospel music, dental students checked people's teeth, a small crowd gathered around a display that determined individuals' body mass index or a machine that uses one's height and weight to determine the amount of body fat a person has, and others talked with health care professionals.
Stanislaus Buckle, 68, a Ghanaian who has lived in the U.S. for more than 40 years, sat patiently waiting for results from a blood screening.
"It was wonderful that I took my blood pressure. It's 143/70. I also took the prostate cancer test which was normal. After I get the results, I will wait for some wonderful food," said Buckle, a retired chef who has been a member of Shiloh for several years. "I think black men are taking better care of their health. You have to watch what you eat and exercise."
James H. Grigsby, III said he didn't come to be tested because at his age, he's been told many of the tests are no longer necessary.
"I came by to offer support," said the former educator who has been a member of the church for 77 years. "Still, I take care of my teeth, push away from the cholesterol, walk to the store and walk in the neighborhood. I don't have a license or a car and use public transportation," Grigsby, 84, said.
He chatted with Jeter during the event. Jeter, 68, said one observation that she's made is that with Bike Connect, she is seeing more black men riding.
"I go jogging and I see mainly white women more than I do men. I hope with these events men are being made aware. It's no secret. It [the health fair] was announced in church and there's a large banner outside."
Grigsby offered a nuanced response about how proactive black men are.
"Black men are taking care of their health although some will never do it because of ignorance. Also, some can't afford the medicine and others use home remedies."
Nicole Mason, 29, and Lisa Schmitt, 24, manned the George Washington University Cancer Institute table laden with brochures and other information all citing the need for early screenings to detect different cancers.
"A number of studies show that African-American genes regenerate quicker which is why we age so well, but the downside of that is cancer grows faster in blacks," said Mason. "My best friend is 28 and has been diagnosed with cancer twice. It is definitely important for black people to stay on top of their screenings."