Ward 7 Residents Weigh in on Alexander vs. Moten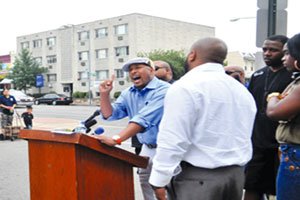 The likelihood of a race between an incumbent and a controversial anti-violence activist with close ties to former D.C. Mayor Adrian Fenty has generated spirited discussions among the residents of that ward.
D.C. Council member Yvette Alexander (D-Ward 7) could face Ron Moten, the co-founder of Peaceoholics, a nonprofit organization that works with at-risk children and young adults to deter gang violence, in the April 3, 2012 Democratic Party primary. The possibility has elicited strong reactions among some residents.
"I will not vote for Ron Moten," Darlene Williams, a resident of Northeast, said. "I will vote for Yvette Alexander before I vote for him."
Alexander, 49, and Moten, 40, have long been competitors in the public arena and their spats are widely known. For example, last year, during a hearing at the John A. Wilson Building in Northwest, Moten called attention to Alexander's ineffectiveness as a "leader in the community" and Alexander walked out of the room, summarily dismissing him.
Another example involved the Deanwood Recreation Center in Northeast during its Grand Opening last summer. Alexander said, in essence, that then D.C. Council Chairman Vincent Gray, not Fenty, should receive the credit for opening the center and that Gray should be supported in the Sept. 14 Democratic Party mayoral primary race against Fenty.
When Moten mentioned that Alexander's endorsement of Gray -- the previous Ward 7 D.C. Council member -- on public property was a possible violation of the Hatch Act, she shouted at him, "whatever."
Washington Post journalist Mike DeBonis recently tweeted to Alexander about Moten's possible run against her. Alexander wrote: "That's what democracy is all about. See you on the campaign trail."
Williams said that while she would not vote for Moten, she isn't enthusiastic about Alexander, either.
"People are not happy with Yvette Alexander," Williams, 52, said. "Half the people in Ward 7 don't know who she is. She said that she wants [people] to vote for her but it seems to me that she does not fight for the people."
Barbara T. Collins, a resident of Southeast, has a kinder assessment of Alexander.
"My feelings about her are not totally negative," Collins said. "I have seen positive contributions from her since she came into office."
Alexander was elected to the D.C. Council in a special election in May 2007 because of the election of Gray as chairman of the D.C. Council in 2006. She was elected to a full term in 2008.
Alexander is known as a passionate advocate for young people and senior citizens. She recently made news when she stopped a mugger outside of the Wilson Building and scolded him with television cameras rolling.
However, she has come under fire recently for her alleged misuse of constituent services funds.
Moten remains a close ally of Fenty and received lucrative government contracts as a result of his relationship with him when Fenty was the mayor. Moten, who is an ex-offender, frequently confronted Gray in the Wilson Building and in the community on various issues during the 2010 primary campaign.
Collins said that she could not comment on Moten "because I do not know who he is." She said that she preferred not to elaborate on Alexander's performance as a D.C. Council member.
"I would not feel comfortable commenting about her leadership at this time," she said.
Unlike Collins, Williams has plenty to say about Alexander's stewardship.
"In my opinion, I think she needs to have more community meetings," she said. "Oh, yes, she has her yearly State of the Ward address, but she has to do that. What Yvette Alexander needs to do is to meet more people and be out in the ward more."
George Johnson, a 38-year resident of Northeast, said that he's fed up with the city's political leadership in general. Johnson, 74, said that he does not know much about Moten or Alexander, for that matter.
"I will confess that I don't know that much about her and I have not heard of him," Johnson said. "Frankly, all of those folks, whether it is the D.C. Council or the mayor, are not doing right by the people. The problem is that when they go uptown, they forget about the people in the community."