UDC Students Demand that Sessoms Resign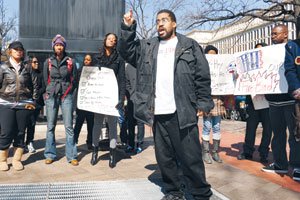 Students Decry President's Travel Habits, Misplaced Priorities


The president of the District's only public institution of higher learning is under attack from student leaders for his travel expenditures at a time when tuition is being increased and budget cuts from the D.C. Council are imminent.

Fifty students gathered at the plaza of the University of the District of Columbia's Northwest campus on Mon., March 7 to call for the resignation of Allen Sessoms, the president of the school. The students, chanting "Hey, hey, ho, ho, Allen Sessoms got to go", said that Sessoms travel and other expenses are too much to bear.

"He is raising tuition and he is spending the students' fees like crazy," said David Okonkwo, 24, a junior biology major. "I don't support what he is doing."
Sessoms, 61, has come under fire for spending excessive amounts of money for travel to places like Egypt and San Antonio, Texas. He held a press conference later during the day to explain why he traveled so much and why he insisted on going first class.

"As a university president, I have to be out there," he said.

"We are trying to build a vision, build a strong team and sell the institution. We know some of the changes that we have made in the university have ruffled some feathers and we expect that."

Sessoms has served as the president of Delaware State University in Dover, Del., and at Queens College in New York City. He had a contentious relationship at Queens College with officials with the City University of New York, which resulted in his departure regarding a misunderstanding about fundraising for an AIDS research center that never materialized.

However, he left Delaware State with high marks for raising academic standards but offended the alumni association by not consulting them on major issues.

Sessoms said that he traveled to Egypt in May of 2010 to hand out degrees to the university's Egyptian sister school, Modern Academy in Maadi and the arrangements had to be made at the last minute because Egyptian government officials insisted that he come. While he was overseas on that trip, he toured the
University of Sunderland in Sunderland, United Kingdom to explore further academic opportunities for students and faculty, he said.

There were also concerns about first-class tickets to San Antonio that costs about $2,200 and a trip to Jackson Hole, Wyo., to mix and mingle with the world's political elite. Sessoms said that he was on university business on each trip.

Sessoms said that the first-class tickets are a result of a medical condition that requires he extend his legs while traveling on planes.

He said that the president's house -- which he did not want -- is the property of the university and the $60,000 Navigator is part of his employment contract. He said he was not able to verify all of his travel receipts due to the university's antiquated financial system.

"This system is so old. It was old when I was a graduate student," he quipped.

The president's answers didn't satisfy Michael Watson, who is the president of the university's Student Senate. Watson, 22, said that the president needs to go because he has not been transparent enough about his travel and spending habits.

UDC student leaders (left to right) Michael Watson, Veronica Alcantarra and Melody Marsh are looking into legal action against President Allen Sessoms. Students staged a protest on the university's campus in Northwest on Mon., March 7. Photo by Victor Holt
"What he is doing is causing tension around the campus because there is a feeling that he is not being honest," said Watson who lives in Southeast.

There have been rumors of retaliation against the students who want Sessoms to step down. Watson said that he is not afraid.

"I am from Southeast and I know my rights," he said.

"I will not stay silent on this."

The University of the District of Columbia has an enrollment of approximately 5,100 students and also boasts a community college, undergraduate division, a graduate school and a law school. Prominent alumni of the university include D.C. Police Chief Cathy Lanier, Atlanta Police Chief Richard Pennington, Lennox Yearwood, president of the Hip-Hop Caucus, University of Maryland-Eastern Shore President Thelma Thompson and former Georgetown Men's Basketball Coach John Thompson.

However, there are some university alumni that support the students' call for Sessoms to step down.

"Since Sessoms has become the president, tuition has increased and he has done away with open enrollment," said Joshua Lopez, a candidate for the at-large city council seat.

"When I was here two years ago, we protested his style of management and his policies. I see he has not changed."

Another alumnus, William Kellibrew IV, fell short of calling for the president's resignation.

"We need an independent, external audit of what is going on," Kellibrew, 36, said.

Sessoms was hired by the university's board of trustees in 2008 to upgrade the university so it would be an attractive educational feature in the city's landscape.

The university's open admission policy was eliminated for the undergraduate division by Sessoms and tuition was increased dramatically, much to the chagrin of students.

The president, in a cost-saving measure, has proposed to eliminate or merge several programs that he considered to be underutilized. Programs that are targeted for downgrading from a major to a minor include Spanish and Physics.

Observers question the wisdom of changing the Spanish program in light of the city's growing Latino population. The downgrading of Physics is ironic because

Sessoms holds degrees in the field.

The curriculum changes bother Ashley Moore, a Fort Washington, Md., English major. She said that English will be downgraded to a minor if Sessoms has his way.

"He is wrong to cut some programs," Moore, 20, said.

"If he cuts some of those programs, some students will lose interest in the university and leave."

Some of the protesting students feel that the president is not supportive of them.

"Our theater department had an outstanding run of 'The Wiz' last year and while the show was praised, Sessoms did not even bother to come to a performance," said Melody Marsh, a senior administration of criminal justice major.

"The theater department will feature 'Annie' this week and we will see if he comes to a show," Marsh, 30, said.

Corey Francis, a senior studio art major, said that Sessoms should try to meet the needs of students who have disabilities instead of "flying around everywhere."

"We have clocks [that] tell the wrong time," Francis, 31, said.

"We have doors on campus that many students with disabilities cannot go through. Our money should go to fix those things, not traveling to Sweden."

Watson said that he, Marsh and Veronica Alcantarra, the president of the university's Latino Student Association will look into filing a civil law suit against the president for his actions.

Watson said that the student body has had enough. A meeting with Sessoms on March 7 did not satisfy them.

"We want Sessoms to leave UDC forever," he said.