Henderson Named Permanent Chancellor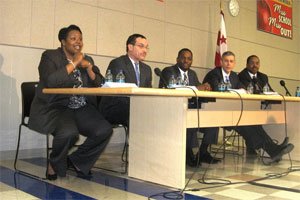 Kaya Henderson, who assumed the post of interim chancellor following the departure last fall of Michelle Rhee, has been named as her permanent replacement.

While D. C. Mayor Vincent Gray's decision to retain Henderson, 40, was revealed on March 9, it had been highly anticipated that he would appoint her to continue efforts aimed at overhauling the 44,000-student public school system.

Henderson worked under the former chancellor in a deputy capacity and had reportedly been Gray's only serious consideration for the post. The veteran educator has been with the District of Columbia Public Schools system for 13 years.

Gray said in a statement that having worked with Henderson while she served a both deputy and interim chancellor, that he had a close-up view on her leadership ability.

"I have seen first-hand that she has the compassion, the drive, the wisdom and the focus on results that we need at this moment in our history," said Gray. "I have confidence in her judgment and her character, and I want her imprint on our schools, as we build a high performing system steeped in the notion that every single child can and will learn."

In the same statement, Henderson expressed enthusiasm over her appointment.

"I am very excited that Mayor Gray has offered me the opportunity to be Chancellor of D.C. Public Schools," she said. "I have learned a great deal over the past four months as interim chancellor and I look forward to continuing to work with Mayor Gray to make the critical decisions needed to ensure that DCPS becomes a first-class school district. The work that we will continue together is critical to the success of our students and the future of our city."

Henderson has exhibited a management style that differs from Rhee, but according to Nathan Saunders, president of the Washington Teachers Union, she has not signaled any intention of altering the path set in motion by her predecessor. To that end, Saunders has said that WTU had a strained relationship with Rhee.

Among some of the sweeping changes mandated by Rhee were streamlining of the school system's Central Office staff, firing of hundreds of teachers deemed ineffective and closing of several underutilized schools.

While serving as interim chancellor, Henderson fired the private firm that was brought in by Rhee to take turnaround the troubled Dunbar High School, and tackled a $50 million reduction in the schools 2012 budget.