Barry Calls for Ward 8 'Liberation and Transformation'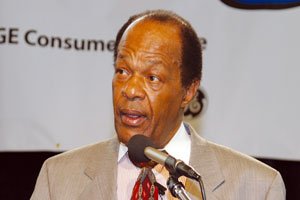 Ward 8 Address Focuses on Education Disparity

A D.C. Council member from a ward east of the Anacostia River called for a change in the way that area thinks about itself and encouraged residents to take charge of their lives and futures.

D.C. Council member Marion Barry (D-Ward 8) delivered his State of the Ward Address, titled "Liberation and Transformation" on Thu., March 10 at the Matthews Memorial Baptist Church in Southeast to a crowd estimated in the hundreds. Barry, 75, said that instead of reciting a list of what he has accomplished for the ward in the past year, he decided to do something different.

"Tonight's State of the Ward will be a different kind of State of the Ward," the former mayor said.

"Our theme tonight is 'liberation and transformation.' I repeat, 'liberation and transformation.'"

State of the Ward addresses are political events that afford ward council members an opportunity to talk about their specific achievements in office. Council members also promote causes or issues of interest to them during the annual addresses.

Barry didn't veer off course. He said that there were "over 10,000 calls that came into the Southeast office for assistance."

However, Barry insisted that Ward 8 will no longer be overlooked when it comes to city services and political respect.

"I have news for others in the D.C. government ... those of us who live, work and worship in Ward 8 are not going to take it anymore," he said to thunderous applause.

"We will not take the disrespect. We will not take those of us who need the most getting the least."

The subject of education is a contentious one for Ward 8 residents because of the long-established, well-documented practice of the ward's schools not receiving equitable funding from the District government.

"Can you imagine [former mayor] Adrian Fenty and [former chancellor] Michelle Rhee have spent over $225 million of taxpayers money on six of the 10 Ward 3 schools and only $57 million on 30 Ward 8 schools," Barry told the crowd.

"This is not to begrudge those parents and students [who] got the school renovations but the fact that Adrian Fenty distributed a disproportionate amount of money to these schools was an indictment of Adrian Fenty and Michelle Rhee's priorities."
Melissa Monk, a parent who lives in the ward with her two young children, Kyya and Aniya, listened to what Barry said. She totally agreed.

"That's just not fair," Monk, 30, said.

"Each ward should have an equal amount. All children, regardless of where they live, need to learn."

Barry said that the school system in the ward needs to be "liberated."

"Liberate us from a failing school system that does not prepare most of our students to be ready for careers or ready for college," he said.

"Liberate us from a school system that has no public schools in Ward 8 with more than 42 percent in math and reading.
Transform us into a school system where there will be no school in Washington that goes below 50 percent in reading and math."

Barry said that at Southeast's Anacostia High School, "17 percent of the students are proficient in math while 18 percent are proficient in reading."

On the other hand, he said, Wilson High School in Northwest, had proficiency rates of 68 percent in math and reading.

Advisory Neighborhood Commissioner Lendia Johnson, who represents district 8A07, said that Barry was right to highlight the disparity.

"I think it is atrocious," Johnson, 59, said. "The people who should have the most services are the ones who have the greatest need. We have lost a lot of our schools and we need them because this ward has the greatest need."

Barry talked about the need for Ward 8 residents to focus on maintaining their health.

"Liberate us from diabetes, hypertension, from all cancers, depression, strokes, heart attacks, obesity, blindness, other diseases," he said.

"Liberate us from people who won't get regular checkups ... who won't listen to their doctors ... use emergency rooms as their primary care physician."

Barry introduced Kim Dickens, the woman who gave him her kidney, two years ago.

Political causes and issues that Barry supports such as finding jobs for ex-offenders, more D.C. jobs for District residents, encouraging business owners who don't live in Ward 8 to give back to the community and supporting female heads of households were mentioned. He also talked about his personal background, from growing up poor in Mississippi to where he is now in the nation's capital.

D.C. Mayor Vincent Gray, D.C. Council Chairman Kwame Brown and D.C. Council member Phil Mendelson (D-At-Large) attended, along with members of Gray's cabinet, prominent ministers and citizens. Gray praised Barry, one of his predecessors, as a strong leader.

"Marion Barry has the courage of his convictions," Gray, 68, said. "We should all follow his example."

Brown, 40, was inspired by Barry's address.

"Sign me up for liberation and transformation," he said.