H Street Revitalization Hits a Snag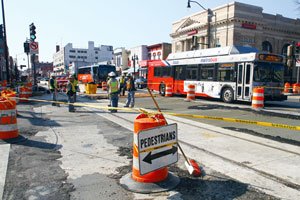 Minority Business Owners Voice Concerns

A group of African-American vendors who operate small businesses along the busy H Street corridor in Northeast, have expressed dismay over a revitalization project, four years in the making, that has not only derailed sales, but resulted in the closing of some 30 shops and the tax sale of several others.

Alleging that city legislation neglected to provide the businesses relief, the vendors -- 14 of whom spoke at a Feb. 28 City Council hearing presided over by Ward 6 Council member Tommy Wells -- also claim the streetcar/streetscape project reeks of discriminatory tactics aimed at forcing minority operators out of business, while heralding the advent of white businesses.

In voicing their sentiments, of particular concern to both vendors and property owners has been construction which has produced barricaded streets and blocked sidewalks amid the clutter of heavy equipment. They have also complained about the work taking place during the day and driving down business.

"We had instituted a deal with the city for a tax delay for merchants but they were not afforded that relief," said Anwar Saleem 56, executive director of H Street Main Street, the nonprofit which was created in 2002 as a voice for businesses and residents along the corridor. Saleem lives in Northeast and owns a beauty parlor on H Street.

"With the city's plans to deal with the infrastructure on H Street, we were supposed to have had construction done in three phases, but all of a sudden they decided to tear up all the streets at one time and it has really hurt the businesses."

Saleem added that the city has refused to offer any kind of tax abatement and increased property taxes between 200 percent and 350 percent. As a result, the businesses have lost between 35 percent and 75 percent of their customers, he said.

Saleem further noted that construction along the 13-block area that stretches from Benning Road onto H Street - and which has included installation of new utility lines, median strips and tracks for a new trolley service - was supposed to have paved the way for new businesses while helping to strengthen existing establishments.

He said that instead, the project has appeared to be a form of "forced urban gentrification," the result of "unsophisticated city leaders" who have failed to understand economic revitalization.

In making his point, Saleem referred to a growing influx of white entrepreneurs armed with grant money, tax abatements and other perks, who have set up shop in the predominantly black community.

"I think it's a new tool the city has as far as gentrification and subtly removing people out of a particular area," Saleem said, while the new businesses that are mostly bars, clubs and fine eateries--continue to spring up along the corridor also known as the Atlas District, several storefronts remain boarded up and closed.

That scenario is in stark contrast to H Street where the city's first Sears and Roebuck store opened in 1929. Years later, at its peak, the corridor bustled with a variety of successful businesses. But things reportedly changed in the late 1960s with the assassination of Dr. Martin Luther King: in the wake of rampant looting, arson and vandalism the area declined and many businesses closed and never reopened. Afterward, in the 1980s, with crack-cocaine use having become more prevalent in major cities across the country, D.C. was also reportedly hard-hit; and with the eventual evolution of gangs, H Street fell prey to neglect and deterioration.

Fast-forwarding to 2000, thrusts at revitalization have since been made to model H Street after the ambience that has been created in the Adams Morgan and the U Street areas in Northwest- though most of those businesses are white owned.

By the time overall revitalization is completed this year, the city will have poured about $60 million into efforts for both H Street and Benning Road -- where the tracks were completed last year for a trolley bus that will service the corridor. Plans call for the trolley to begin operation by the spring 2012.

John Lisle, director of the D.C. Department of Transportation, said work on Benning Road -- where several long-time black businesses are located -- began in late 2007.

During construction of the trolley tracks and redesign of the road to widen it and add attractive medians and new street lights, traffic was often heavily snarled and vendors had complained about the loss of business and customers as well.

Noting that small businesses have been the backbone of the nation's economy, H Street property owner Diop Bachir has implored the City Council's help keeping the minority-owned shops afloat.

Bachir, 44, said former Mayor Adrian Fenty's administration labeled the corridor blighted and reinforced that conclusion "with policies." He also said the city's commercial property tax rates have handicapped small business operations and District officials need to visit H Street and observe for themselves what's going on.

"The City Council needs to be instrumental bringing relief and we won't be conciliatory," Bachir, a Northwest resident, said. "They don't have a clue what economic development is, and I think this is blatant racism if not ignorance on their part. These businesses help to attract jobs but the city can't see that."

According to H Street Main Street assessments, through direct recruitment and partnerships, the organization has attracted more than 150 businesses to the corridor since its inception. Two years ago, 28 opened in comparison to the 24 that launched in 2010. In addition, new construction dollars were poured into the project, more permit fees were obtained, the city garnered a stronger tax base and close to 600 new jobs were created.

Pam Johnson, 49, a real estate broker who also owns property along the corridor, lives in Northwest. She said her main contention has been with shuttle buses.

"I pay taxes just like all these other businesses on H Street but the city, under Fenty decided to subsidize the shuttle bus" Johnson said, referencing the $500,000 the District is expected to shell out for the project over a two-year period.

She added that while Mayor Vincent Gray served as City Council chairman, he had been of little help earmarking funding for equitable assistance. But Johnson said that during Gray's first week as mayor, the Council amended a Gray-supported bill that would provide relief for businesses and property owners who would not have otherwise benefitted from monthly subsidy funding the city provided for the shuttle.

However, Johnson said the shuttle would only serve businesses along the corridor that operate from 5 p.m. until 3 a.m. Since most of the black businesses that still exist there are closed those hours, Johnson said they would be further pushed out of the loop.

"It's not equitable nor is it fair for us," Johnson said. "We've been working on this for the last six months - and maybe even longer, begging the city for assistance."

She added that with property taxes having escalated, she wondered why minority businesses would have to pay as much in taxes as the new white-owned bars and clubs.

"So I see it as discrimination with the city providing selective assistance to certain types of businesses," Johnson said.

Wells, at one point, appeared perplexed by the group's assertions. He told Saleem that while their concerns had laid out the dilemma H Street's minority merchants claim to face, overall, plans to revitalize the corridor have had a positive impact.

"According to your testimony, after many, many years of H Street not rebounding fully, and having so many buildings with no one in them, with streets deteriorating and being chaotic and disorderly . . . you now state that over the past two years, H Street Main Street has helped to attract more than 150 new businesses and jobs," Wells said.

"So [the city has helped to add] more businesses [along the corridor] during the worst economic downturn since the Great Depression. I think that is a testament to [the meaning of revitalization]."

Wells, 54, said that every time one of the buildings sells for a higher price, everyone's assessments increase.

"So they've been there through the bad times and are now seeing their taxes skyrocket because their buildings are now considered to be more valuable," Wells said in reference to the black business owners who have been able to maintain their stamina over the past 30 years.

Nevertheless, Bachir said many of the now-defunct businesses had been doing well until the revitalization project. He said for that matter, the project was flawed in its design, implementation and approach - mainly because it has not been inclusive of stakeholders.

"It should have been designed in a way that's inclusive to businesses and beneficial to the community with positive impacts," Bachir said.

"We don't doubt the benefits this revitalization could bring for small minority businesses, but the way in which it is being implemented has been really harmful to existing businesses."