Baker Focuses on Economic Development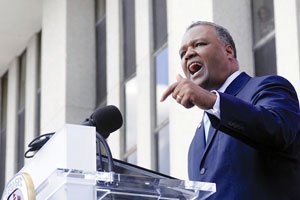 The county executive of Prince George's County has made developing the jurisdiction's economy a priority by establishing an investment fund for individuals who are interested in starting a business or expanding their business in the county. He plans to deliver his speech on economic development at one of the county's landmarks.

Prince George's County Executive Rushern L. Baker III has created a $50 million economic development pool -- the Economic Development Incentive Fund (EDI) -- with the assistance of his transition team's economic development group who will assist individuals who want to set up in Prince George's County and those who are already operating there.

Baker, 52, will discuss his economic strategy at a State of the Economy address that is scheduled to take place on Tue., March 29 at the University of Maryland's Samuel Riggs IV Alumni Center in College Park, Md.

"It is imperative for the future growth of Prince George's County that we expand our economy and our commercial tax base," Baker said.

"With the proposed EDI Fund and this talented and experienced economic development team, we have the foundation for Prince George's County to create jobs and become the epicenter of progress and prosperity throughout the region and the state."

Baker, a resident of Cheverly, said that "the fund will assist in expanding the county's commercial tax base, creating additional jobs and increasing the county's income tax base." He said that the EDI Fund's effectiveness will not be exclusively determined on financial returns.

"It will be measured primarily by [tangibles] like job creation, increased tax revenue and the achievement of key development goals," he said.

The fund will be administered by the county's chief administrative officer who will work with several agencies to achieve its objectives. A financial review committee, which will have up to seven members, will be appointed by the chief administrative officer to consider poten-tial applicants for money from the EDI Fund and make appropriate recommendations.

The EDI Fund is a part of Baker's 2012 proposed budget and must be approved by the Prince George's County Council by July 1.

Prince George's County is facing a projected $77 million deficit, which is considerable but much better than the District of Columbia's $322 million shortfall and Montgomery County's $300 million deficit. The national recession has not prevented the county from growing economically under Baker's predecessor, Jack Johnson.

The Johnson administration managed to get and maintain its Triple-A bond rating on Wall Street and has worked with entrepreneurs to create and expand such projects as National Harbor in National Harbor, Md., Konterra Town Center in Laurel and adding such high-end grocers such as Wegmans in Lanham.

Still, Baker and other county leaders such as Prince George's County Council member Mel Franklin (D-District 9) want the county's tax base to mirror Montgomery County's, which depends largely on commercial rather than residential tax income.

Baker's State of the Economy address is sponsored by the Prince George's County Chamber of Commerce and will feature an economic development showcase.

James Dula, the former president of the chamber of commerce and the chairman and chief operating officer of the Legacy Premier Foundation of Hyattsville, said that Baker seems to be going in the right direction as far as economic development is concerned.

"I feel Mr. Baker is doing the best he can for now," Dula, 61, said.

"Our small and minority businesses can make many contributions if provided with contracts and greater opportunities."

Dula, a resident of Clinton, said that he realizes that Baker "inherited a government in need of new paradigms and a new direction."

"I am hopeful he selects people who know our county and have proven experience," he said. "The jury is still out for now."

However, Belinda Queen, a well-known community activist in the Wilburn section of Capitol Heights, said that Baker still needs to reach out to Prince Georgians so they can know what he wants to accomplish.

"I have not been affected by what he has done and I really have not seen him since he took office," Queen, 48, said.

"I am a member of the Coalition of Central Prince George's County Community Organizations, and we have tried to get him to talk to us. He has not and we are concerned about that."