Gray Administration Targets Non-compliant Contractors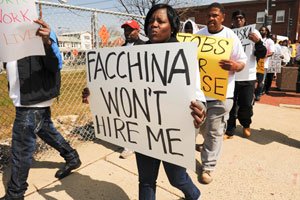 When it comes to hiring for construction jobs financed with taxpayer dollars, the District's black residents are continually being passed over. And, most times it's in favor of Hispanics, according to an organizer for the United Construction Workers (UCW).

But Raymin Diaz also claims that in many cases, Hispanics are being paid only a fraction of wages outlined in contractors' agreements with the city's First Source program.

"This situation is much bigger that what's been put out there," said Diaz, who since February 2010, has been gauging the public's response over the lack of construction job opportunities for city residents who are disproportionately African American.

"At the end of the day, it's a divide and conquer tactic," Diaz said of perceived efforts to create tension between blacks and Hispanics. "And it's controlled by the contractors who are in charge and have the ability to hire."

A few weeks ago, Diaz, 34, and other community advocates met with some 400 black residents, mostly from the Southeast and North-east neighborhoods of Wards 7 and 8, where many have consistently sought out construction work but to no avail. The wards are among the city's poorest, and in recent months have grappled with unemployment rates that have spiraled as high as 17 percent and 28 percent, respectively.

Ron Harris is an organizer for SMART DC -- a coalition of organizations and District residents who want to ensure more of a black presence on construction sites, including the $300 million 11th Street Bridge project - a project which has been ongoing since late December 2009.

Mayor Adrian Fenty announced the massive road project in April 2009. It's the largest undertaking in the history of the District's Department of Transportation. The reconstruction of the 11th Street Bridge, which is being managed by the contracting team of Skanska/Facchina, is slated for completion in May 2013.

"What we got from the meeting [with Diaz] was how disgruntled folks were over the lack of work on the 11th Street Bridge site," Harris, 57, said.

Harris said he learned that in addition to contractors only accepting resumes from 1 p.m. to 3 p.m. on Fridays, when the contractors visited Ward 8 more than a year ago, they made no mention of job vacancies. Harris also said he discovered after a visit to their trailer site that the construction company was from the Tidewater area of Virginia and that most of its workforce was from there as well.

Diaz said that during the time he has worked with UCW talking with both city officials and residents, the overwhelming response has been that Hispanics have all the work. Maurice Benton (left) and Abdul Fernaders hoist signs in the air along the 11th Street Bridge in Southeast to
protest the lack of District residents who are hired on D.C. construction sites, on Tue., March 22. The $300 million 11th Street Bridge project has been underway since 2009. / Photo by Victor Holt


"There's a wedge that's being driven between black and brown communities over these jobs," said Diaz. But "the contractors and developers are going to claim that there aren't people in the neighborhood who are qualified to do the construction work."

Meanwhile, First Source was implemented in the District two decades ago to create job opportunities for Washingtonians and leverage the city's spending on contracts. In essence, contractors standing to reap at least $100,000 from contractual agreements with the city, promised that 51 percent of their workers would be District of Columbia residents.

The program has been administered by the Deputy Mayor for Planning and Economic Development (DMPED) in conjunction with the Department of Employment Services. However, last summer amid a rash of shortcomings surrounding the program, a city led review deemed it ineffective.

Shortly after assuming office earlier this year, Mayor Vincent Gray described the program as "mismanaged, abused and ignored," and implemented changes that began with a crack down on 22 firms that have been taken to task for not playing by the rules. The infractions included: willful breach of employment agreements, failure to submit required reports or deliberately submitting falsified data.

"The mayor takes First Source compliance very seriously," said Rochelle Webb, Department of Employment Services (DOES) acting director.

"In order to move forward [under Gray's campaign mantra] as One City, we need to hold contractors to their legal obligations to hire D.C. residents and expand our capacity to match District residents with First Source jobs."

Firms that were scrutinized were referred for a letter of non-compliance that would be followed by a recommendation for penalties. They included Goel Services, Prospect Water Proofing, MET Painters and Clarke Concrete Contractors.

Goel and Clarke Concrete were among the firms that the Washington Informer contacted for comment - but none had responded by press time.

James Harper, 29, a community development advisor for District-based Hensel Phelps Construction (HPC), said that his firm, which is involved in a 42-month, multi-million-dollar project for the Washington D.C. Marriott Marquis in Northwest, has provided DOES space on-site to recruit workers.

"It's more convenient to have a place at our building so people can come onto the job site to be screened," Harper said. "If there are no [job] options at HPC, DOES will refer them to other employers."

Harper said that 17 new hires are working on the Marriott project earning between $18 and $20 an hour. Of that number, 12 are D.C. residents, he said.

The $300 million 11th Street Bridge project has been ongoing since December 2009. Mayor Adrian Fenty announced the massive road project earlier that year. It's the largest undertaking in the history of the District's Department of Transportation. Photo by Denise Rolark Barnes
However, Harper said that "the key is to get unskilled people trained to become skilled workers," as well as to impress upon residents the need to get more blacks onto the work sites.

But Dawud Sadeq, owner of DSS Consulting and Services in Southeast, said getting adequate black representation on the work sites has been a problem.

"The general contractors don't give true opportunities to blacks," Sadeq said.

"We [placed a] bid on the largest landscaping project on the East Coast and [the District] gave it to a Latino firm based in Baltimore."

Sadeq said that the First Source program has been compromised but the District is also at fault.

"No one's been checking to make sure firms are in compliance so [the contractors] think that as long as no one's checking, they can get away with it."