Orange Crushes Opponents in Ward 8 Vote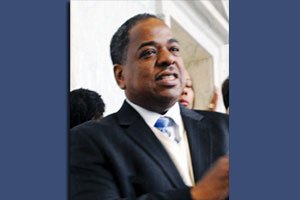 Former Council member gets 86 Percent of Tally

A former member of the D.C. Council received an overwhelming endorsement from one of the city's most active political groups in his quest to return to the city's legislative body as an at-large member.

Former D.C. Council member Vincent Orange got the nod from the Ward 8 Democrats on Sat., March 19 at Matthews Memorial Baptist Church in Southeast. Orange, a resident of Ward 5 in Northeast, received a whopping 86 percent of the vote out of a field of six.

"The numbers speak for themselves," Douglass Sloan, the campaign manager for Orange, said. "This is the first endorsement we have gotten from a ward-based organization. The people who voted made a strong statement about who they wanted as an at-large member on the Council."

A candidate had to receive 60 percent of the registered voters who participated in the tally to get the endorsement.

Political observers and insiders say that a Ward 8 endorsement sends a message to the rest of the Democratic clubs in the District about who they should consider supporting in an election.

Orange, 53, received 141 votes out of 164 that were cast.

D.C. Council member Sekou Biddle (D-At-Large), who holds the temporary position on the Council because of the elevation of then D.C. Council member Kwame Brown to the chairmanship, received a mere six votes and was tied with former campaign operative for D.C.

Mayor Adrian Fenty, Joshua Lopez of Northwest, with that number. Candidates Thomas Brown, Dorothy Douglass and Bryan Weaver received five, three and one vote, respectively.

One ballot was marked "no endorsement" and another was considered void.

The special election for the at-large Council seat will be held on Tue., April 26. The other elections that will take place that day are the State Board of Education seats for Wards 4 and 8.

Orange's victory did not surprise longtime civil rights activist Lawrence Guyot, who is supporting Biddle.

"Vincent Orange campaigned to Ward 8 and Ward 8 responded," Guyot, 71, said.

Charles Wilson, who serves as an advisory neighborhood commissioner for district 8A04 in Southeast, said that he is for Orange.

"We need an independent voice on the City Council," Wilson, 35, said. "We need someone who will hold the mayor accountable and that is what Vincent Orange will do."

A candidates' forum was held while the voting took place. Orange talked about his work as a Ward 5 Council member, his credentials as an attorney and a certified public accountant and his love for the District.

"I'm running because you can trust me because my word is my bond," he said.

Biddle, 39, was selected to the Council earlier this year by the District of Columbia Democratic State Committee. He said that he would support strengthening the school system and promoting economic development in the ward.

Biddle shocked some members of the audience when he confirmed that he once said that the best mayor that Washington had ever had was Anthony Williams. D.C. Council member Marion Barry (D-Ward 8) served four terms as the city's mayor and is beloved in the Southeast ward.

"Let me say that I have a great working relationship with Marion Barry," Biddle said while Barry, who was seated in the front row, listened.

"We have worked together on a number of things and I look forward to continue working with him."

Barry, 75, has publicly endorsed Biddle for the at-large seat.

Lopez, 27, said that it's time for new leadership in the city and he wants to be a part of the change.

"It seems like in this city it is the same people running all the time," said Lopez, who if elected, would be the first Latino to serve on the D.C. Council. "We need new ideas and new ways of looking at things."

Ward 8 Democrats President Jacque Patterson, who was a candidate for the at-large position but failed to get the required number of signa-tures to run, said that the endorsement is not to be taken lightly.

"Ward 8 comes out and votes," Patterson, 46, said. "We are going to hold these people accountable."