Baker Presents State of Economy Address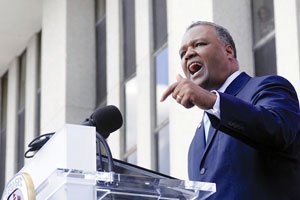 Prince George's County Executive Rushern Baker said in his first State of the Economy address that while things look good for one of the nation's most affluent majority black communities, there's room to move them to a level of greatness.

"This is a difficult time in our nation's economy. But ladies and gentlemen, I'm here to tell you that in Prince George's County, the state of the economy is good!" an upbeat Baker said.

"I want to move beyond talking about the county's potential because the time for us to fulfill that potential is now," he said, alluding to a later comment that "the county is poised to become a major engine for economic growth in this region."

Baker's assessment of Prince George's economic health and his plans to nurture its future were made on March 29 at the University of Maryland. The event was sponsored by the Chamber of Commerce and attracted a crowd of about 400 people -- most of whom were from the county's small business community.

In his address titled, "Beyond Potential: The State of Prince George's Economy," Baker outlined his comprehensive economic development plan while bridging its relation to the FY2012 budget. Plans aligned with Baker's $2.6 spending plan include measures for trimming the $77 million deficit.

However, in efforts to lure those businesses, Baker faces significant challenges from the County Council. Particularly in light of a high homicide rate - 12 so far this year -- and the shroud of uneasiness that has enveloped the county in the wake of former executive Jack Johnson's alleged dealings with developers.

Baker also made note of the county's unblemished AAA bond rating, announced his new four-member economic development team, talked about not having to raise taxes and boasted about the lack of employee layoffs.

He cited the Economic Development Incentive fund - a $50 million investment plan that was established to create jobs and spur growth for the commercial tax base.

According to Baker, better schools attract more residents and more businesses -- which in turn will generate additional revenues that can be used to support educational initiatives.

"Recently, we saw an 11 percent rise in elementary school readiness," Baker said. "One of the major reasons for this good news is our full day pre-[kindergarten]. This is why it is critical that we all understand that no matter where economic development is focused, we all benefit."

Chamber of Commerce President Rhonda Slade commented after Baker's speech that it had been a shining example of positive changes and growth that can emerge when small businesses and government work together.

As a result, "The Prince George's Chamber of Commerce stands ready to partner with County Executive Baker as we continue to advance the interests of business for a vibrant [region]," Slade said.