Nationals Kick-Off Season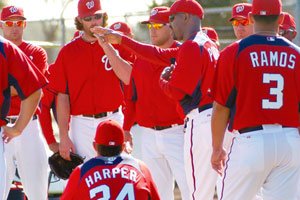 The Washington Nationals kick-off their seventh season on March 31 when they face the Atlanta Braves at 1:05 p.m., at Nationals Park in Southeast.

With the start of Major League Baseball again in the region, it signals the unofficial start of spring and hope always springs eternal that the upcoming season will be better than the last.

For generations, baseball fans have always heard with the onset of a new season from their respective teams, "this year, things are going to be different," or "we're coming into this season with a different mindset."

More often than not, these time-honored cliches often don't match the reality of the win-loss record of a team once a season begins. This has been the case especially for the Washington Nationals.

In the off-season, Washington general manager Mike Rizzo and the front office have tried their best to change that notion.

They've taken steps to improve a franchise that has never had a winning season since they arrived in the nation's capital and have finished last in the National League East for the past three consecutive seasons.

The goal for the organization this year and beyond is simple: take a franchise that has been seen as a laughing stock by some and make them into a world class, competitive one.

During the off-season, instead of signing players off the proverbial scrap heap - and perhaps way past their prime - such as Paul LoDuca, Johnny Estrada and Odalis Perez, the Nationals focused on getting veterans with lofty track records and varying degrees of success.

Now, fans have accomplished veterans to root for such as Jayson Werth, who won a World Series with the Philadelphia Phillies in 2008 and signed a seven-year, $126 million deal in the off-season. In addition, the Nationals signed first-baseman Adam LaRoche to bring some swagger and offense to the Nationals.

If you also factor in excellent third baseman Ryan Zimmerman, veteran catcher Ivan Rodriguez, an emerging slugger, Michael Morse, young infielders Ian Desmond, Danny Espinosa, plus a healthy starting rotation with pitchers Jordan Zimmerman, Livan Hernandez, Jason Marquis, John Lannan, Tom Gorzelanny and a strong bullpen on paper, the situation with the major league team does not seem that bad.

Although no one - either in the local and national media - is picking Washington to play in a World Series this season, the feeling is that they are much improved over the past few seasons.

They just have to show it over the next six months.

However, if fans are looking for the Washington Nationals to win more games than they lost in 2011, it may not happen.

There are too many young players on the squad, a pitching staff with too many issues, unproven players and holes in their everyday lineup to become a contender. They simply lack the talent it takes to really compete in the National League East.

It may be frustrating at times to watch the team in 2011; however, the Nationals are loaded with young talent and building blocks for their future.

Prospects such as Derek Norris, Sammy Solis, Steve Lambardozzi, and Chris Marrero may not be household names like pitcher Stephen Strasburg along with hyped outfielder Bryce Harper - who will start his professional baseball career at Class-A Hagerstown - but they are expected to have a role with the team in years to come.

The Washington Nationals, in my opinion, will finish better than their 69-93 record from last season; however, they will have to go through some more growing pains and frustration to become a factor in a competitive division.