Roller Derby All-Stars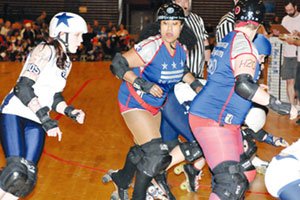 The D.C. Rollergirls rolled into action for their fifth season, Sun. Mar. 27 at the D.C. Armory in Northeast. The D.C. All-Stars v. The Port Authorities (Maine) provided great Sunday afternoon entertainment to a sold-out crowd. The All-Stars are an elite group of female skaters. / Photo by John E. De Freitas.



Roller derby enthusiasts at the D. C. Armory on Sunday, March, 27 included members of the D.C. Wounded Warriors, sta-tioned at Walter Reed Army complex. "It is part of our recovery therapy," said Derrick Killebrew (right), a member of the U.S. Army who is currently recovering from a service-related injury. / Photo by John E. de Freitas.