Cheh Holds Hearing on Gray's Hiring Practices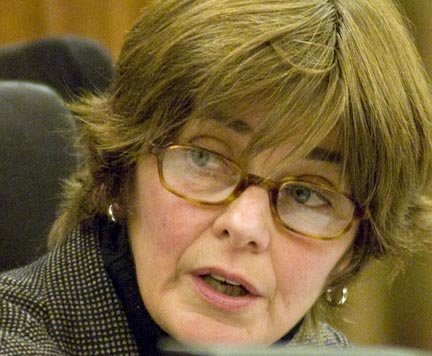 A member of the D.C. Council recently held a hearing to examine the employment procedures of administration officials who have drawn the ire of District residents and the public-at-large.

D.C. Council member Mary Cheh (D-Ward 3) convened a public oversight roundtable as the chairperson of the Committee on Government Operations and the Environment on Mon., March 28 at the John A. Wilson Building in Northwest. Cheh said that the purpose of the hearing was to determine what went wrong in regards to the hiring practices of D.C. Mayor Vincent Gray.

"We want to look at the salaries paid to executive officials and where these were reasonable salaries with regards to the financial constraints faced by the city," Cheh, 60, said. "We are also going to look at other benefits as a part of a compensation package. We have heard of charges of cronyism and nepotism lodged against the administration."

Cheh said that former failed mayoral candidate Sulaimon Brown's allegations of financial pay-offs during the 2010 campaign season and his subsequent $110,000 job as a special assistant in the Department of Health Care Finance have generated media attention. Brown, 40, attended the hearing but left before it concluded.

Cheh said that she wanted to "get to the facts on whether laws were violated" when Gray, 68, hired his executive and professional staffs. She pointed out that there are approximately 30,000 D.C. government employees with 200 in Excepted Service positions or political appointees.

"One hundred of those appointees serve at the will of the mayor," she said.

"The executive should have the ability to appoint those loyal to him to carry out his objectives."

Cheh said that there should be limits on how much money those employees should be paid, however, political appointees should be qualified for their jobs.

D.C. Inspector General Charles Willoughby, Gray transition director Reuben Charles and former Department of Health Care Finance Chief of Staff Talib Karim testified before Cheh's committee. However, Cheh's witness list did not satisfy D.C. Council member David Catania (I-At-Large).

"The most interested parties are not here," Catania, 43, said referring to former Gray chief of staff Gerri Mason Hall, campaign and transition chairwoman Lorraine Green and Gray political consultant Howard Brooks.

Catania, noted that the children of Hall, Green, Brooks and others had gotten jobs in the Gray administration. He said that the "impression is very clear" about the hiring practices of the mayor's administration.

"There is a political caste system in this city," he said.

D.C. Council member Marion Barry (D-Ward 8), who is not a member of Cheh's committee but nevertheless attended the roundtable, said that Catania's characterizations are not true.

"It bothers me that Catania has made loose and wild statements," Barry, 75, said. "This government is not for sale."

Barry defended the hiring of the children of administration officials saying that "these children have a future."

"I have a 30-year-old son and he has a right to get a government job," he said.

"Stop it, Mr. Catania."

Barry said that the motives of people who are questioning Gray's hiring practices are purely political.

"Four members of this Council did not support Mayor Gray," he said.

"They should not try to discredit him."

Brown left the hearing after Barry's remarks.

"Marion Barry's statements were disingenuous," Brown said. "He is not the only one because Mary Cheh and David Catania need to rescues themselves from this matter."

Brown said that it was Catania's pressuring of Health Care Finance Director Wayne Turn age that led to his firing. He said that he intends to take legal action against the Gray administration in regards to his termination.

Reuben Charles, the Gray transition director, said that Brown was adamant about getting a job in the Gray administration.

"He said it would make sense to hire him considering the valuable contribution that he made during the campaign," Charles, 42, said.

Karim testified that he was happy to work for Gray but did not have nice things to say about Font's tenure.

"I witnessed first-hand the arrogance of the prior mayor and his team summarily dismissing employees for merely expressing dissenting opinions, breaking ties with organized labor and excluding people from opportunities in government simply because they were not in his inner-inner circle," he said.

He said that Brown's termination resulted from "poor performance" and "conduct unbecoming of a mayoral appointee such as reports of harassment from female employees."

"There was one instance where he offered a 'romantic' gift to an intern with the agency," Karim said.

Cheh's roundtable did not produce any serious violations on behalf of the Gray administration. Barry, a former four-term mayor of the city, explained that mayor's have different styles of doing things.

"This is a different mayor and he operated differently," he said.

"Different governors operate different ways. Barrack Obama operates differently from George W. Bush."