Gray Impresses with State of the District Address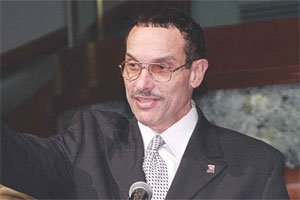 D.C. Mayor Vincent Gray is by no means one of the city's most compelling speakers but he made a strong case for being one of the most persuasive during his State of the District Address, which he delivered to a crowd of hundreds at the newly remodeled Eastern Senior High School in Northeast.

Gray's first speech of this type, delivered in a measured and deliberate tone, ended on a high note on Mon., March 28. The mayor received accolades from residents for its comprehensive content and its focus on the future of the city. The general consensus: Gray touched on key issues that will impact the District going forward.

"I think it was a very ambitious address," Ken Fealing, 43, said.

"It was a speech that dealt with the realities that the city faces. I liked the fact that he talked about the serious budget deficit and the problems of Wards 7 and 8," the Northeast resident said.

Gray, 68, who noted that he was speaking at Eastern, said that the school's rebuilding is a sign that the District of Columbia is moving forward.

"As they have done at this school, we must build on our past and focus our energy on creating tomorrow's triumphs," the mayor said.

"Tonight, we gather to reflect on what those triumphs might be: the State of the District is our occasion to pause from our daily labor, think hard about our city's future and offer a vision of the great achievements that tomorrow will bring."

He talked about his vision of Washington as One City.

"At my very core, I believe in a District of Columbia that is One City -- where our citizens, all of our leaders, all of our wards and neighborhoods, all of our social and racial and economic groups come together to make our city a more livable, workable, prosperous, compassionate, global capital," he said.

Annette Gregory smiled when Gray talked about One City.

"His idea of One City is just what is needed to bring this city together," said Gregory, 37, who is also the 2011 Ms. Washington,
D.C.

"I hope that he can bring that idea into fruition."

Gray talked about his specific interests throughout the 35-minute address, which included early childhood education, getting District residents jobs, building the health care, hospitality and technology sectors and last but not least, dealing with the city's $322 million budget deficit.

However, as is the tradition with mayors of the nation's capital, Gray mentioned the District's self-determination.

"Imagine the District of Columbia as the 51st state where residents enjoy the full privileges of democracy and self-determination -- just like every other citizen in the United States of America," he said.

Gray, a longtime resident of Ward 7, talked at length about residents who live east of the Anacostia River.

"At its widest, the Anacostia River spans barely half a mile -- but when you pass over it -- it can feel like you've left one continent for another," he said.

But, that's not the case.

He said that the Anacostia River could resemble many of its counterparts in the world, such as the Seine River in Paris, the Thames in London, the Charles River in Boston or the San Antonio River Walk in San Antonio, Texas.

"They all represent a unifying force," Gray said.

During his address, Gray also said that one of his economic development projects includes more District control of Walter Reed in Northwest.

"One week ago, I announced that we have negotiated with the federal government to give the District control of more land on the Walter Reed campus," he said.

"This will increase opportunities for jobs, affordable housing and retail that Ward 4 residents have been urgently requesting."

The mention of Walter Reed pleased D.C. Council member Muriel Bowser (D-Ward 4).

"At least Ward 4 got one mention," Bowser, 37, said. "We have been working on that project."

The mayor received a short applause when he talked about personal responsibility.

"I've learned that when people are able to make their own way, when they become responsible for their own uplift, they become better providers, better parents, and better people," he said.

"That is why we cannot tolerate double digit unemployment as high as 19 percent in Ward 7 and 30 percent in Ward 8. My administration will take the steps necessary to encourage job growth and employment across the city."

Gray said that the work he is attempting to do should have long-lasting effects.

"When a century [has elapsed] and [a] future mayor gives a State of the District Address at a school, let him or her take pride in something we built today, with our hands and with our spirit," he said in a powerful, spirited voice that resonated with the audience.

However, Gray's speech did not impress everyone.

"It is the same thing that he said last year during the campaign, "Joshua Lopez, a former campaign aide to D.C. Mayor Adrian Fenty and a candidate for the at-large position on the D.C. Council, said.

"He just made a bunch of promises and I want to see them delivered."

Nonetheless, Gray got his point across to many.

"His speech had a lot of information and he has aggressive goals," Leslie White of Northwest said.

"He has some tough issues to tackle and I think that this speech is the start of doing that."