Barry Defends ex-Gray Administration Official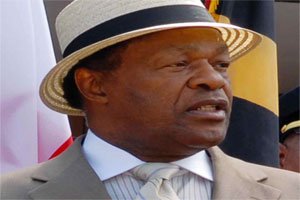 A veteran D.C. Council member vigorously supported a former high-level official of the Gray administration in a hearing that took place at the John A. Wilson Building in Northwest on Fri., April 29.
D.C. Council member Marion Barry (D-Ward 8) upheld the testimony of Judy Banks, the former human resources director in the Gray administration during a public roundtable of the Committee on Government Operations and the Environment, which is chaired by D.C. Council member Mary Cheh (D-Ward 3). Banks, 60, withstood 10 minutes of tough questioning by D.C. Council member David Catania (I-At-Large). He accused her of alleged inconsistencies, and what he termed perjury, in her previous March 28 testimony.
"It is clear to me that there are members of this committee [who] are trying to impugn the character and the credibility of this particular person," Barry, 75, said referring to Catania's charge of Banks committing perjury before the committee.
"Those things should be left to a judge and a jury."
Catania, 43, said during the hearing that Banks was the one who put into motion the hiring of Brandon Webb, the son of the then interim director of the Department of Employment Services, Rochelle Webb. Banks has refuted that charge. She said that Kenneth Ellerbe, the city's fire and emergency services chief, told her to hire Brandon Webb.
However, Ellerbe and Rochelle Webb testified before the committee in a previous hearing that it was Banks who facilitated the hiring of Brandon Webb.
Barry, a former four-term mayor of the District, commended the service of Banks, who worked for 31 years in the District government. She served in high-level personnel positions during her tenure.
"In all of those years, she has never been charged and has an impeccable record," he said.
Banks, a resident of Mitchellville, Md., appeared as the lone witness before the committee. Failed mayoral candidate Sulaimon Brown and Ward 4 activist Cherita Whiting, who both, held jobs in the Gray administration before being fired, did not respond to requests to testify and have avoided subpoenas.
Former Gray campaign operative Howard Brooks and his son, Peyton, who had a brief job with the administration, sent letters to Cheh, 60, claiming a Fifth Amendment privilege against self-incrimination.
Cheh said that she hoped that the final public roundtable on Gray's hiring practices takes place on May 13.
The change from one administration to another in a short period of time "can be chaotic," Barry said. He also said that mistakes may have been made but that they were not "gross."
"Vincent Gray was fortunate to attract the highest talent to his administration," he said.