Orange's Return to the Council Provokes Discussion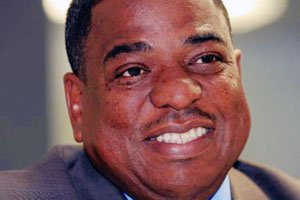 Political Expert Advises Orange to Remain an Outsider
The recent election of a former council member to an at-large seat has created speculation among residents and political observers as to what he will do once he is sworn-in later this month.
Former Ward 5 Council member Vincent Orange, a Democrat, defeated a large field of candidates in a special election that was held on Tue., April 26, to choose the successor to Kwame Brown, an at-large member who was elected chairman of the D.C. Council in 2010. Orange's victory was greeted with cheers by some city residents.
"I think it is just great that he was elected," said Mary Cuthbert, an advisory neighborhood commissioner in district 8C03. "I was behind him 110 percent and I think he will help us out of that budget mess."
There are others who are more tempered in regards to Orange.
"I used to live in Ward 5 and I do know that he is definitely pro-business," said Antwayne Ford, the president and chief executive officer of Enlightened: Beyond Expectations, an information technology and management consulting firm in Northwest.
"Small businesses are struggling in this city and his expertise in dealing with small businesses is needed on this Council."
Orange, 54, has been credited with bringing businesses such as Home Depot to his ward and working to strengthen small businesses access to city contracts while serving on the D.C. Council from 1999-2007.
Ford, 46, said that Orange can provide a unique perspective to the city's fiscal year 2012 $320 million budget deficit.
"Vincent Orange understands that when you cut a social program, you are not just cutting that program," said Ford, who lives in Northwest.
"There are small businesses that depend on that government program for revenue. If you cut the program, you not only hurt people but the consultants that make a living working with that program."
Cuthbert said that Orange's background as a "lawyer and an accountant is a plus."
Cuthbert is an active member of the Ward 8 Democratic State Committee, which gave Orange an endorsement vote in March of 86 percent.
Orange won Ward 8 with 66 percent of the vote in the special election, the highest percentage in the city. Cuthbert said that many people voted for Orange because of his experience as a prior member of the D.C. Council.
"Orange will be an excellent Council member," she said. "He knows how the system works."
However, D.C. political analyst Chuck Thies said that being an insider may not be the best solution for Orange.
"On the Council, it [appears] to me that Orange is going to position himself as an outsider," Thies, 46, said.
"He has to be careful that he does not become a member of the club in terms of operating inside the Wilson Building. The road to becoming a popular politician in this city is to be an outsider."
Orange once considered a powerful member of the D.C. Council, particularly as the chairman of the Committee on Government Operations, had broad oversight over city agencies. He also proved to be a force in making D.C. Emancipation Day an official public holiday in 2004.