The Center for Minority Business Development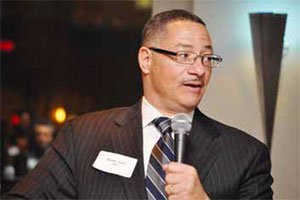 What do you have to do to take your business idea or plan to the next level? Enterprising people in the Washington Metropolitan Area now have access to business training and mentoring that can facilitate and sustain their business' growth.
The Center for Minority Business Development (CMBD) is celebrating its first of year empowering minority businesses in the area. Located at Prince George's Community College, the Center for Minority Business Development (CMBD) is a place, program, and purpose focused on more minorities and their businesses competing for lucrative local, state and federal contracts.
Taking minorities and their businesses to the next level is CMBD's basic charge. "We aim to narrow the participation gap between minority and non-minority owned businesses: says CMBD Executive Director Carl Brown. Brown postures the CMBD as "a conduit to where this area's billion-dollar deals are taking place."
The CMBD was established through a $5 million grant from The Peterson Companies to enhance skills and abilities of Prince George's County's workforce, encourage greater collaboration between minority and non-minority firms, and address gaps in minority business participation in Prince George's County. In the funding, National Harbor developer Milton Peterson "has made a major commitment to employing local and minority-owned businesses in operations and creating jobs". The second and third phases of Peterson's $2 billion project will open up tens of thousands of jobs and thousands of contracting opportunities.
CMBD staff member Katrina Mayo (center) and Guests from a Networking Event at the National Harbour held in March 2011 that drew over 150 participants. /Courtesy Photo
The seven minority businesses graduating from CMBD's Local Minority Business Enterprise Accelerator Program on May 12th have opportunities for multi-millions of dollars in contracting opportunities. Maryland's construction boom is being led by Peterson's National Harbor project. There are numerous other major development projects under way in Prince George's County: Konterra in Laurel is around $1.75 billion; Greenbelt Metro Station Town Center Project estimated at $1.75 billion, and the billion dollar Woodmore Town Center. These development projects represent many contract opportunities that the CMBD can help minority business operators access.
The focus on minority business participation in growth industries, such as construction, has fueled initiatives such as CMBD to equip minority business owners with the skills and resources needed to compete in top tier projects. Carl Brown says "Major growth is going on in the region and with it comes greater opportunities for minorities". Brown says "We are here to break down barriers" that hampered small and minority business in the past and "prepare participants for the construction boom occurring in D.C., Maryland and Virginia."
The CMBD is open to minority business operations across the area, but in particular it helps minority construction firms based in Prince George's County to build the capacity to compete for large-scale construction contracts. The CMBD utilizes state-of-the-art instructional facilities to deliver cutting-edge learning and business opportunities. The workshops offered include "How to Do Business with Prince George's Country Government and Public Schools" and other local, state and national agencies.
L-R CMBD Staff - Dennis Smith, Katrina Mayo, Carl Brown, Mirinda Jackson, Deborrah Banks, June Evans. / Courtesy Photo
The CMBD helps its program participants to get technical and business training and access to contracting programs and opportunities. Because of the nature of the CMBD's purpose and implementation, program participants will have the opportunity to interact with owners of development projects occurring in the area; with prime contractors that are hiring subcontractors for specialized tasks; with local government agencies that hire contractors, from public works departments to transportation agencies to boards of education; and with community-based organizations that may offer business loans, or a network of small business owners that may offer mentoring or bonding assistance.
Many community organizations concerned with neighborhood economic development are on CMBD's Board of Advisors and advocates for creating set aside programs or other approaches to increasing opportunity.
Prince George's County based construction businesses as well as other small and minority businesses interested in business and economic development opportunities are urged to contact CMBD at www.cmbd.biz. Check out their television show the Emerging Business Report on your local cable provider.