Prince George's County Executive Rushern L. Baker, III Participates In 23rd Annual Christmas In April Program
WI Staff | 5/6/2011, 5:39 a.m.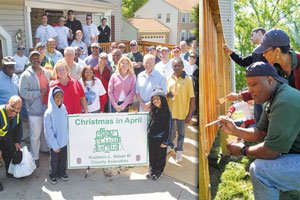 Baker rolls up his sleeves and pitches in to help renovate homes for elderly and disabled homeowners
Wearing work clothes instead of his usual suit and tie, Prince George's County Executive Rushern L. Baker, III joined volunteers across the County today to help renovate homes for elderly and disabled homeowners in the 23rd Annual Christmas in April*Prince George's County program.
"I am pleased to be out today with our Christmas in April volunteers and to help make renovations and repairs for homeowners in the County who need our assistance," said Baker. "The Christmas in April program is one of the County's leading volunteer organizations, and it genuinely illustrates the meaning of community service and how all of us can make a difference in someone's life."
Baker's first stop was at the home of Mrs. Alice Callaham in Upper Marlboro. The Callaham's home required renovation in order to accommodate the needs of her 19 year-old paraplegic son, whose condition is the result of a traffic accident that occurred in January of this year. Mrs. Callaham's 21 year-old son was tragically killed in the same accident. Due to the extensive amount of renovation needed inside and outside the home, a team of skilled builders from the 11th Wing Civil Engineer Squadron at Joint Base Andrews joined forces with Christmas in April*Prince George's County to help renovate the Callaham's home.
"It's incredible to see the extensive amount of work completed by volunteers and the members from Joint Base Andrews, and I commend all of them for volunteering their time and skills to make the Callaham's home more wheelchair-accessible," said Baker. "They have made a difference for the Callaham family that will have a lasting impact and truly enhance their quality of life."
"I'm so proud of all the volunteers who are helping improve the quality of life for seniors and disabled homeowners in Prince George's County," .S. Senator Barbara A. Mikulski said. "Everyone deserves a safe, affordable place to live."
Before departing for other itinerary stops throughout Oxon Hill and District Heights, Baker was joined by Congressman Steny Hoyer at the Callaham's house.
"Rebuilding Together with Christmas in April is one of the most outstanding non-profit organizations in the country," stated Congressman Hoyer. "I have supported this organization for more than 22 years, and every year am proud that so many Marylanders are willing to give up a Saturday to help a neighbor in need, and to see what a difference is made - in just one day - in the lives of those whose homes are repaired. Christmas in April is a wonderful example of what we can accomplish when we come together to help our neighbors and community."
Christmas in April*Prince George's County has been renovating homes since 1989 for elderly, disabled, and/or low-income homeowners throughout the County. According to Christmas in April*Prince George's County spokesperson, Freddi Vaughn, the program received 200 hundred applications for this year but could support only 84 houses.
"We would like to help every elderly and/or disabled homeowner in Prince George's County who needs our assistance, but we don't have enough financial resources to purchase all of the supplies that are required. We depend on donations and the proceeds from our annual golf tournament and are hopeful that our September charity event will be exceedingly successful this year," said Vaughn.
For more information about Christmas in April*Prince George's County and/or the charity golf tournament in September, please visit the website at www.christmasinapril.org or contact Freddi Vaughn at (410) 580-0429.