Freedom Riders' Civil Rights Legacy Endures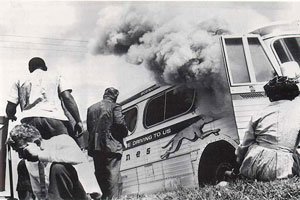 Fifty years later, their story still has the power to alarm, the ability to elicit outrage.
There are white men - faces distorted with rage - attacking young college students with fists, crowbars, baseball bats, chains, anything that can inflict pain. While on the sidelines, white women with countenances knitted in raw, naked anger, spur on their men chanting, "Kill the niggers, kill the niggers."
We see images of a bygone era: the 'Whites Only' and 'Colored Only' signs, segregated water fountains, libraries, restrooms, restaurants, buses, all graphic evidence of the centuries-old tradition and customs that segregationists said "were in the best interest of both races."
These stark black and white images are part of a documentary, Freedom Riders, produced to mark the event's 50th anniversary.
An enthusiast crowd of several hundred gathered at the Newseum in Northwest on the evening of May 6 to view the two-hour film. Written, produced and directed by documentary filmmaker Stanley Nelson, the film captures the essence, flavor and harrowing experiences of the Freedom Riders in 1961. It airs nationally May 16 on PBS.
"Why did I do it?" said Georgia Congressman John Lewis in the film, "[because] human dignity is the most important thing in my life."
The Freedom Rider concept was conceived by the late James L. Farmer, co-founder of the Congress of Racial Equality (CORE). He took this bold step because this was the best way for CORE "to be brought into the same discussion as the NAACP," we're told.
What Farmer and CORE proposed, alarmed its supporters and detractors in the Civil Rights movement as being too confrontational, but as longtime Civil Rights activist Julian Bond said, CORE courted violence to effect change.
These young, idealistic college students were instruments of change but not before igniting the hostility of Southern whites for their determination to overturn centuries of a two-tiered, system that left African Americans in a cowed, subservient position. Segregation was all-encompassing and wouldn't allow for any breaks, and as one person explained, "The Supreme Court said there was no right of a black person that a white person had to respect."
It was logical to target transportation since it was a linchpin of segregation in the South.
"It was a simple but daring plan to take small groups on buses deep into the South. Six [people] were on Greyhounds and six on Trailways going deeper into the South," said Ray Arsenault, author of the book on which the film was based.
"...there was a certain naivete attached to it."
Yet through their courage and determination, these 12 black and white students of non-violence confronted and defeated racism and discrimination in the heart of the former Confederacy. Those changes still resonate today.
"Travel in the segregated South for black people was humiliating," said Nashville Freedom Ride Coordinator Diane Nash, who attended the event.
"The fact that there were separate facilities was to say to black people and white people that blacks were so subhuman and so inferior that we could not even use the public facilities that white people used."