The District and Metro Launch Pilot Aimed at Students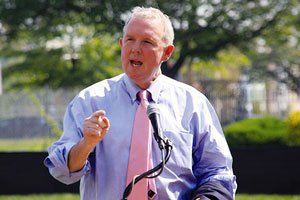 Students who attend the School Without Walls will be the first to try out the new electronic fare passes in a pilot program that will not only enable them to pay their Metro fares, but could also help authorities identify students involved in altercations while riding the system's buses and trains.
The high school, located in Northwest, has an enrollment of 500 students - all of whom started to sign up online last week for participation in the first phase of a new DC One Card project being administered by the District Department of Transportation (DDOT) in partnership with Metro.
"It's a more modern up-to-date [pass] that works as an ID card that will show the [student's] name and what school they attend," said D.C. Council member Tommy Wells (D-Ward 6). "The card will also ensure that students use them for education transportation."
While the transit subsidy benefit works with DC One Card IDs that are currently issued to secondary school students through their respective schools, the new passes that have a Metro chip embedded, will replace those that some 16,000 students use to board the Metro system. The new cards could also have the capability of restricting use during non-school hours.
But Wells, 54, who has been an avid supporter, said the pilot would probably not begin with the restrictive measure because it was primarily "under-written" to ensure that students get to and from school.
The DC One Card concept has been in use since the summer of 2008 when cards were issued as consolidated credentials for District government workers to gain access to government facilities.
Making the cards available to students for necessities like obtaining driver's licenses and employment in the D.C. Summer Youth Employment Program has also been considered.
"That's what I'm hoping for -- that we pilot and then determine if the card would make those amenities more accessible -- all on one card -- to young people," Wells said.
"The idea would be for the card to be more multi-functional."
DDOT spokesman John Lisle, 47, said the pilot will allow students to transfer their fares on a DC One Card instead of having them obtain separate fare or paper cards. Students will also be able to activate their cards for use at libraries and recreation centers, and to present them as acceptable picture IDs for gaining access to public buildings.
"We have a school subsidy office where students come to apply for the passes and then they get a voucher that they take to Metro," Lisle said.
"The students pay half and the District pays half --which amounts to about $6 million -- and they get their cards from Metro."
The second phase of the pilot launches this summer and if both phases are successful, a program that will include middle school students will be adopted this fall. Charter and private school students will eventually participate.
Since School Without Walls is a high-performing magnet school, its selection for the pilot has reportedly implied that less affluent high schools may not have been as worthy.
But Ayanna Smith, spokeswoman for DDOT's technology office, explained that the school's small enrollment singled it out as an appropriate test model.
"DDOT determined that a school with 100 students was too small of a population and schools with 1,000 were too large," Smith said in an email.
"They felt confident that any issues that would arise throughout the pilot would best be identified through this population size."
Smith also said that because School Without Walls students come from all quadrants of the District, unlike many of their peers who live in neighborhoods where they can walk to school, students who attend the School Without Walls would probably be more eager to use the transit subsidy program.
Meanwhile, published reports have stated that Metro grappled with a spike in crime last year that involved the arrests of about 500 youth.
Metro spokeswoman Lisa Farbstein said that at this time, the agency is only focused on using the cards for student transportation.
"The pilot is about getting the cards to students. It's a test program and something that DDOT is working on."