Martin Re-elected as Fairmount Heights Mayor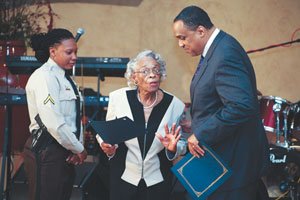 The voters of a small, predominantly Black municipality in Prince George's County have re-elected a mayor who has promised to fight crime and promote economic development.
Lillie Thompson Martin, who served as mayor of Fairmount Heights in central Prince George's County from 2003-2007, was returned to office on Mon., May 2.
Martin, 64, said that she is ready to assume the helm again.
"I am going to work on a fast track to solve the problems of this town," she said. "I want to make sure that our government works smoothly and that it pays attention to the needs of the citizens. I have lived here all of my life and I want to see Fairmount Heights thrive."
Martin, who received 88 votes, defeated four challengers: Patricia Waiters, Jacqueline Wood-Dodson, Nancy Dixon Saxon andUkkundo 'Oohwaka. Three residents, Kevin Downing, Aaron Wilson and Harry Saunders, were elected to at-large seats on the town council.
Nathaniel R. Mines Jr., the outgoing mayor, opted not to run for re-election and lost a bid to win a seat on the town council.
Fairmount Heights is the second oldest Black municipality in the county -- with its incorporation taking place in 1935 -- and it has a 2000 U.S. Census Bureau reported population of 1,508. The city is 95 percent Black, according to the 2000 census.
Fairmount Heights has been the home of some prominent Black figures. Well-known architect William Sidney Pittman built his home on Eastern Avenue with his wife, Portia Washington Pittman, who was the daughter of early 20th century Black leader Booker T. Washington. Doswell Brooks was the first African-American member of the Prince George's County Board of Education. Chuck Brown, the musician and bandleader who popularized go-go, lived in Fairmount Heights for a few years in his early life.
Presently, former Maryland State Sen. Tommie Broadwater, the first Black elected to the legislative body from the county and who is considered the "godfather of Black politics", has his businesses in the town.
However, the town has been plagued with a high crime rate and a sagging economy. They are not the only problems that Fairmount Heights has, said 37-year resident Colbert Delaney, who voted in the election.
"I want to know where the money went." Delaney, 73, asks.
"Our town leaders say that the town is broke and we have no money to pay for broken trash and public service trucks. We have a lot of abandoned homes here, but we all pay our taxes."
Fairmount Heights has experienced budget and revenue issues in recent years due to the cuts in federal and state assistance to municipalities and its small commercial base. Some county observers say that the town is on economic "life support" and could retrocede or give up its incorporation status, to become an unincorporated community in the county.
Martin said that economic development is a key to addressing Delaney's concerns about the town's financial health.
"One of the things that I will work on as mayor is the development of the Sheriff Road corridor," she said. "That corridor can become a viable economic engine for the town and it can create jobs and opportunities for people."
Kimberly Brunson, a voter, said that she is concerned about the soaring crime rate.
"I have had my cars broken into," Brunson, 41, said. "On Eastern Avenue, you see prostitutes, male and female, walking the streets at all hours. Something needs to be done about that."
Martin said that she has a strategy to fight crime in the town.
"I will work with the D.C. police, the Prince George's County police department and our town police to deal with crime," she said. "As far as prostitution goes, I will work with CAP [Citizens against Prostitution] to try to put a stop to that activity."
Downing, 47, said that Martin cannot solve the town's problems alone.
"We have to be a cohesive group on the council to address prostitution and to beef up our police department," he said.
"We have to work together to bring revenue to the town and to make it a better place to live."