Parents, DCPS Blamed for Truancy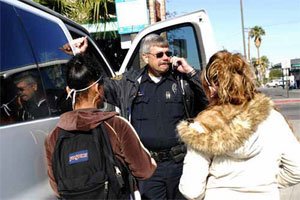 Part Two in a Two Part Series
n any given day in almost every District neighborhood, youth who should be in school are seen loitering and getting into mischief.
City police have picked up more than 4,000 students this year for truancy, and with District of Columbia Public Schools (DCPS) officials already faced with burgeoning dropout rates, the daily mound of non-excused absences doesn't make the situation any better.
"The schools aren't being aggressive enough making sure parents are held accountable for why students aren't in school," said Kathy Henderson, a former Ward 5 advisory neighborhood commissioner.
"The kids are hanging out all over the place and I'd like to see the numbers for every middle and high school where principals show that they've contacted parents and requested immediate conferences to address their child's truancy."
Henderson, 49, added that although the Department of Youth Rehabilitative Services (DYRS) has started to move in the right direction in terms of truancy, those efforts have been slow.
"I'd like to see DYRS and every City Council member more engaged in combating this problem," Henderson said. "If we don't get our kids in school and educated we can't ever expect to end poverty."
Truancy usually begins at the middle school level and some 2,000 students in the District skip school each day. However, a report in the Winter 2011 edition of Education Next, states that most truants tend to be African American and Hispanic; and just as many females as males are truant. The report also notes that while more than half of truant students live in single-parent households, nearly one-third live in poverty.
In addition, a study by the New America Foundation indicates that as of 2010, the District - with an enrollment of [45,000 students] - had the third highest per pupil expenditure - of $16,000 and the second lowest graduation rate [56.0 percent].
DCPS spokesman Fred Lewis said that each of the system's 123 schools have an attendance committee comprised of school personnel who are responsible for monitoring attendance data and developing intervention plans for students with excessive absences.
"DCPS [has] also integrated a new computer program designed to follow the DCPS Truancy Protocol and interventions mandated by state regulations," Lewis said.
He said that the program, called the Attendance Intervention Module (AIM), allows principals and staff to readily identify students in need of intervention based on the number of unexcused absences accrued.
Ram Uppuluri, 50, executive director of the D.C. Alliance of Youth Advocates inNorthwest, said the city could do better. His organization encourages District leaders to work closely with its agencies and other organizations to identify leading causes of truancy. But he said that in order to be successful, the District must not be too quick to wash their hands of truants.
"As we look at the way the District is approaching the problem, first and foremost, we want to encourage government officials not to kick kids out of school for being truant, but to work with local agencies and organizations to pinpoint challenges that keep students from going to school," Uppuluri said. He added that in some cases, organizations familiar with truants, often have intimate details of family structures that could benefit the District in its effort to combat truancy.