Banneker City's Field of Dreams
Elton Hayes | 5/13/2011, 9:29 a.m.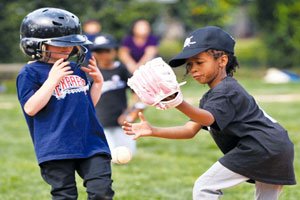 After a 10-year hiatus, baseball has returned with a vengeance to Banneker Field.
And with the creation and growth of the Banneker City Little League, children and parents have embraced the team as its own.
The arrival of the Banneker City Little League has been well received by parents who otherwise had to tote their children to Maryland or Virginia to play baseball. Such was the case with Fatima Warren, 36, whose son Brock plays for Banneker City's T-Ball team.
"It was really hard for us to find a sport for Brock locally. Last year we tried soccer but had to drive all the way to Montgomery County because a lot of the local areas don't offer sports for kids as young as him," Warren said.
Thanks to the league, Warren said that at just four-years-old, Brock has taken a genuine interest in baseball and carries his ball and glove with him everywhere he goes, which includes trips to the grocery store.
"He loves it. It's something that he really looks forward to. He actually knows that when Wednesday comes, it's T-Ball practice day," Warren said.
Two years ago, District officials gathered at the baseball field in Northwest to honor Maury Wills, a hometown hero who spent countless hours perfecting his craft before he achieved national recognition with the Los Angeles Dodgers. Wills, a two-time National League MVP, grew up in Ward 1 where he honed his craft at Banneker Field. The grounds have been fully renovated and now bear Wills' name.
The Banneker City Little League completed its inaugural season last fall. The resurgence of the league has also grabbed the attention of the Washington Nationals, who have partnered with the league to ensure its long-term success.
"We connected with Banneker City Little League at the end of their fall season and what we committed to them then was to help as much as we could," said Washington Nationals director of community relations Israel Negron.
The league currently consists of three divisions: T-Ball (4-6), AA (7-8) and AAA (9-11). Still in its infancy, the league plans to expand so that it can accommodate older children in the near future. Practices for the league are held Monday-Friday at Banneker Upper Field, where home games are usually played on Saturdays at the Banneker Recreation Center in Northwest.
The games are not only fun for players and coaches, but for their family members as well. Mothers, wives, aunts, cousins and uncles showed up this past Saturday [May 7] to cheer on Banneker City's T-Ball team during their game at Rose Park Baseball Field in Georgetown, a Northwest neighborhood.
Two-year-old Caleb Macklin, accompanied by his mother Janai, 29, enjoyed a game of catch with spectators while his sister Kindall, 6, played first base. Judging by the amount of fun he seemed to be having, Caleb will likely follow in his sister's footsteps and join the league.
Like Macklin, the Carter family has also made Banneker City baseball a family affair. Logan William Carter, III, volunteers as a Banneker City assistant coach and has two sons Siraj and Salih, who play on the league's T-Ball team.