Banneker City's Field of Dreams
Elton Hayes | 5/13/2011, 9:29 a.m.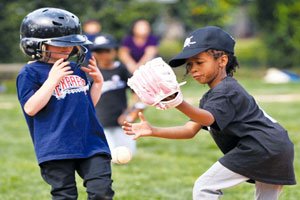 "I wanted to get my kids involved in baseball and happened to run across the league. I heard that it was growing in size and that the Nationals were pushing it. We teach the kids fundamentals, how to hustle, and how to make the game a team sport. Everyone gets a chance to bat. I love it," Carter, 41, said.
Carter happens to be one of the league's more colorful coaches and seldom misses the opportunity to get a laugh not only from his players, but from opposing teams as well. His jovial personality makes him an athlete and fan favorite.
In just six months, the league has seen the number of players and coaches grow from 50 to 200. With the proper support, the league not only hopes to enjoy long-term success, but to also garner greater community interest in the sport.
As the league works to accommodate its growth, its partner, the Nationals provide them with expensive baseball equipment. On May 15, the Nationals will host an equipment drive, where all items collected will be donated to Banneker City Little League.
"We've had very good support from the youth baseball community where other leagues bring their equipment to Nationals Park and we get it into the hands of the right group," Negron said.
"This year that group is Banneker City."
For more information about the Banneker City Little League, visit bannekercityll.org.
T-Ball coach Will Ticer shows Brock Warren how to hold his bat properly during the Banneker City's T-Ball game at Rose Park Baseball Field in Northwest on Saturday, May 7. / Photo by John E. DeFreitas
Kindall Warren attempts to catch a ball at first base during Banneker City's T-Ball game./ Photo by John E. DeFreitas