Roundtable on Crews, Cliques and Gangs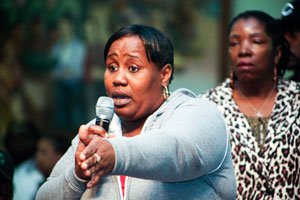 Searching for Answers, Part I
First, two groups of teenagers, at least 70 in number, were involved in a melee at several Metro stations. Then on Easter Monday, a teenager stabbed another teen at the National Zoo. That same day, 19 teenagers walked into a retail establishment on Connecticut Avenue in Northwest and calmly walked out with more than $20,000 worth of merchandise.
Growing concerns about these and other incidents involving teenagers prompted Congresswoman Eleanor Holmes Norton (D-D.C.), to convene a roundtable on "Crews, Cliques & Gangs" that attracted hundreds of members of the community, including former gang members, violence intervention workers and professionals. For almost three hours, the group discussed issues and solutions inside a hearing room at One Judiciary Square in Northwest.
"This is a very important subject but I fear a subject of which we know too little," said Norton in opening remarks during the May 5 hearing.
"We're concerned about the recent spate of stabbings and shootings. Some think it's gangs, others say it's a phenomenon of the rise in youth violence."
Norton sought answers through the Black Men and Boys Commission. The question participants and the community considered was posed by Rahim Jenkins, a longtime community activist, about what the community would do if the resources aren't available.
Former gang members, youth counselors and others working to stem the violence shared their stories, the frustrations surrounding this issue and called for city officials, other leaders and parents to step into the void. Without a concerted and sustained effort to reach and deal with young people, nothing would change, many speakers warned.
Local attorney and Commission member Ronald Mitchell spoke of the difficulty of handling such a complex issue.
"When you eradicate gang culture in impoverished neighborhoods, what do you replace it with? There are businesses, economics and social alienation associated with gang culture. There are many faces to [this]."
Yet the means to reverse gang violence had been available to combat the problem as Darius Robinson and Donald Jackson explained.
The men were once mortal enemies, locked in the internecine warfare that shook Simple City in Southeast for years. The warring factions came to public attention in January 1997 when 12-year-old Darryl Hall was snatched off the street, beaten and his body tossed into a ravine.
Members of the Alliance of Concerned Men and Robert Woodson, a community development leader, and founder of the National Center for Neighborhood Enterprise (NCNE), interceded and brokered a peace treaty. In addition, the city stepped in and provided jobs and other opportunities so that the young people would not see guns and violence as the only option.
Both Jackson and Robinson, who are now gainfully employed, complained that the money to fund jobs and other support mechanisms were cut.
"Now, our neighborhood is beefing all over again. Youth are tired of eating oodles of noodles."
Robinson said he started his own business, has a clothing line and recently finished writing a book. He has custody of his children and struggles to keep the various threads of his life together. Memories of his past life still haunt him.