Roundtable on Crews, Cliques and Gangs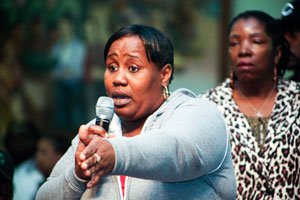 "I have dealt with a [person] who lost everyone in the family," Robinson said softly.
"I have lost so many friends and I was tired of losing friends. I went through struggles, I went through hell. My sister is serving an eight-year sentence, my brother is serving life, my mother is dying of cancer and my father is dead."
"I still associate with the guys and everyone comes up asking for a job. I try, I try."
Robinson expressed frustration at the state of affairs he sees in the Southeast neighborhood he used to frequent.
"They've got us spinning in this circle. [People] are back on the same corner, back in it. We had the funding, everything was in order and people forgot about us. We want to cease, we want to change but we have no other option. We start the nonsense all over again just so we can eat."
One mother of four, Darice Stevens, pleaded with officials for help.
Every day, she said, she drives carloads of children from Coolidge Senior High School in Northwestto the Takoma Metro Station. All this, to avoid the children being caught up in a beef between members of the Riggs Park and the Rittenhouse crews.
During the question and answer period, Wali Johnson, Peaceaholics' chief operating officer, electrified the crowd.
"I'm tired of all this talking, it's a waste of time," he said. "... I maintain relationships with these young'uns and they say 'we don't want to hear it, we ain't squashing nothing, ain't got no job, will keep pushing the pack."
"Of all the people hired in Simple City, only three or four are still working. They cut TANF without a [backup] plan, [and] there are no jobs this summer," Johnson said.