DCRA Gets High Marks
5/18/2011, 8 p.m.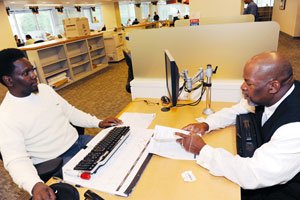 Center to Aid Small Businesses Opens
A District government's agency that regulates businesses is getting high marks for its fast, efficient service and its new offerings to customers.
The Department of Consumer and Regulatory Affairs (DCRA), an agency that's infamous for its long lines and its unprofessional staff has turned a corner.
Today, the practices have changed and the agency and its employees are being commended for excellent customer service.
"It is quite an improvement from the old days," said Theodore Wade, owner of Theodore Wade & Company, Inc., in Northeast.
"In the old days, you had to plan your whole day and maybe another day to get something done here at DCRA. Now, you can just come down, get your business done and be about your way."
Wade, 83, showed up at the DCRA headquarters in Southwest to re-register his real estate corporation. A real estate entrepreneur in the District since 1967, he said that he would have done the re-registration online, but he lost the form.
"Doing it online is a lot simpler than waiting in line," Wade said.
The online option is the latest move by DCRA to assist small business owners interact with agency officials. Individuals or businesses required to contact DCRA can now submit their documentation online by presenting a flash drive to the appropriate agency official.
Agency officials can reply to customers electronically, as opposed to mailing correspondence that may take days or attempting to reach clients by phone.
In the past, customers had to wait for hours in line to submit paperwork.
The online option is one of the changes that's taken place at DCRA, but it's not the only one.
D.C. Mayor Vincent Gray announced on Wed., May 11 that his administration, in conjunction with DCRA, has created the Small Business Resource Center (SBRC), a service center which will provide technical assistance to small businesses.
"The launch of the Small Business Resource Center brings us one step closer to achieving my vision, and reiterates the importance of DCRA to economic development in the District," Gray, 68, said.
"It helps support my vision of making the District of Columbia's regulatory environment more streamlined and less burdensome to the business community."
The SBRC will provide one-on-one technical assistance, pro bono legal services and workshops on such matters as corporate registrations, licensure, tax compliance and other compliance-related topics for small businesses. Nicholas Majett, the director of DCRA, said that the SBRC will help small businesses.
"While DCRA has been making strides to modernize, update, and streamline processes so that businesses can operate in the District of Columbia with greater ease, we continue to find that the complexity of the District's regulatory environment creates challenges for small businesses," Majett, 58, said.
"We do not want to be an obstacle. Instead, we want to be facilitators of business activity within the District."
Majett said that the SBRC will be "business friendly" and will be by appointment only.
Frank Moody, who is the owner of Diversity Concierge for Regulatory Assessment LLC., in the District, agrees with Majett that DCRA is now "business friendly."
Moody, 58, serves as a consultant to businesses that want to move into the District and need help dealing with DCRA in setting up their operations.
"The DCRA is definitely small business friendly," said Moody, a Hyattsville, Md., resident. "I love what I do for my clients. There are so many different elements to setting up a business here in D.C. and there is so much involved in terms of processing. The staff here is knowledgeable and friendly and they know what they are doing."
Gray cannot help but smile. He's excited about what's taking place at DCRA.
"I was visiting [DCRA] recently and I was talking to a customer who appeared to be disgruntled with the new process," the mayor said.
"Just as he was about to tell me what the problem was his number was called. That is progress."