Crews, Cliques and Gangs Part II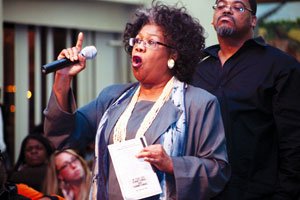 Del McFadden knows the benefits a timely intervention can have on a young person's life. In his case, he believes, it was the difference between life and death.
As a teenager, he was running with older youth and men in the drug trade.
"A drug dealer is the major reason I'm here," said the 37-year-old District resident.
"I was 13 and sold drugs for him. I lived in a household of five, and we lived on $660 a month from welfare ... I wanted to be part of something, so I waited in the car watching the guns and drugs."
"These were older guys who used me because I was 13."
McFadden said drug dealing was a way of surviving and the money he made helped him buy tennis shoes and be a part of a popular group in his neighborhood.
"Things started getting hot with shootings. The drug dealer [William] turned to the church," he explained.
"The man had college credits, too. He's the reason I read books.
"He said we were going to sign up for classes at Southeastern University and we both were on the Dean's List together."
The result of William's love and concern about his young charge's well-being is that McFadden survived the rough and tumble streets of Kenilworth in Northeast, and has since devoted his time and resources to helping young people who are in the position he was once in.
McFadden was one of four panelists at a roundtable on Crews, Cliques and Gangs who discussed their experiences and proposed how best to combat the alarming problem.
Violent incidents involving teenagers prompted Congresswoman Eleanor Holmes Norton (D-D.C.) to convene the May 5 roundtable. It was clear from comments and stories shared by young men, mothers, fathers and others that the Black community is reeling.
Darice Stevens, a 39-year-old mother of four, pleaded with city officials at the meeting to help her and other residents beat back the youths who are terrorizing the children at Coolidge Senior High School in Northwest.
"I just want the school to be safe," she said.
Del McFadden, a coordinator with the Columbia Heights/Shaw Family Support Collaborative, delivers testimony during a roundtable hosted by Congresswoman Eleanor Holmes Norton at One Judiciary Square in Northwest on May 5. / Photo by Shevry Lassiter
"Kids not being able to go and come to school in a safe environment. They jump and rob the children and nothing is being done about it. It's been going on for about two years. Kids get robbed, jumped. Even I got jumped."
Despite repeated complaints to Coolidge officials, all she has gotten is unfulfilled promises, she said. Stevens said she met with Ron Moten of Peaceaholics Monday, May 16 and was scheduled to meet D.C. Schools Chancellor Kaya Henderson on Friday, May 20.
McFadden, a youth counselor with the Columbia Heights/Shaw Family Support Collaborative, said the behavior of some of the young people he interacts with reminds him of a program he saw on National Geographic.