Crews, Cliques and Gangs Part II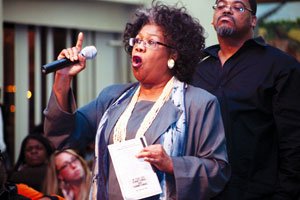 "We wonder how these kids can shoot someone and then go to McDonalds to eat a hamburger," he said. "When people have no hope, you see things like insurgencies and people strapping bombs to themselves. Well-rounded people would never do these things."
As he moves around the city trying to extinguish conflict, young people beg him for jobs, McFadden said.
Kids described as killers often change their language and behavior around adults. He said a melange of issues cloud the problem of gangs and youth violence. These include 'couch surfers,' drugs, education, or the lack of it, turf wars, deaths in the family and lack of resources.
"It may be a go-go incident, a soccer game or some form of entertainment where something breaks out," he said.
"It could be at certain Metro stops, start over a North Face coat, what someone said on Facebook or because a girl is dating someone in another neighborhood."
He said there is a hidden hand at work that has weakened and decimated the Black community.
"During the post-crack cocaine era [that's] where we lost our community," he said. "Some things were put in the community to knock us off course."
McFadden spoke of vans and truckloads of guns that mysteriously appeared on the streets of Chicago and other cities, of the FBI's COINTELPRO program that destroyed the Black Panthers and any leadership that sprouted in Black communities, and efforts to co-opt and neutralize Black leaders.
At issue in the District too, is the clash between newcomers and youth. People who own $600,000 condos don't want youth loitering, playing loud music or dropping trash where they live.
"Gentrifiersdon't want the young people around them. They want them gone," McFadden said.
In his mind, adults, parents, the Black community, politicians - all have failed young people. Further, the community's priorities are skewed, as evidenced by the millions spent by the National Zoo to "rent" the pandas versus $250,000 needed to fund youth anti-violence programs.
Eleanor Holmes Norton (D-DC)
"They feel that there is nothing to live for, they live this dismal existence and there is no opportunity for growth, employment or opportunities," McFadden added. "We're setting up our kids to be wild animals. I saw a program with young elephants who were engaged in abnormal, peculiar behavior. They were pulling out trees, going crazy, attacking their elders. Why? Because they had no male role models."
At the meeting, several speakers said they are tired of constant talk and no action.
"It's a joke," McFadden said. "We have these meetings [and] we leave out with the same thing we came in with.
"... the way the system works, it works to time you out. If you stay around, they may give you [something],"
"It has to come from us, man. I tell [D.C. Council member] Jack Evans that we can't politic our way out of this. Until the issues of poverty [and] court issues [are addressed], until student ratios go down, nothing will change," McFadden said
"We can't reinvent the wheel or look for super-solutions. But, I stay optimistic that we'll change things," he said.