Nationals Avoid Sweep by Marlins - Livan Hernandez Sets Record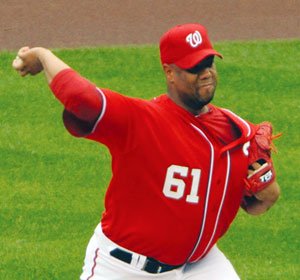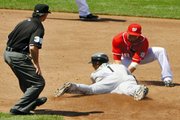 After a week of offensive struggles, the Washington Nationals finally got the bats going and emerged victorious over the Florida Marlins, 8-4, on Sunday, May 15.
A solid effort by starting pitcher Jason Marquis (5-1) combined with a six-run, first inning by the offense, helped the Nationals end a three-game losing streak and avert a series sweep at the hands of the Florida Marlins.
Catcher Ivan Rodriguez drove in three runs and Marquis had a solid outing on the mound, going 6 2/3 innings and allowing four runs - two earned - in a fairly easy victory.
"Getting the runs early was big. That's been a little bit of an issue for us and to get some early really kind of helped us out with some breathing room later," said Nationals manager Jim Riggleman. "Jason pitched well, kept us in there, fought out of a few scrapes there and did a great job."
On Saturday, Nationals starting pitcher, Livan Hernandez, 36, made history despite being defeated on the mound as he tossed his 3,000th career inning. He is one of two pitchers - the other being pitcher Tim Wakefield, 44, of the Boston Red Sox - to cross the plateau.
"It's been a long career. Like I said before, it's not easy," Hernandez said.
"I throw more than 4,000 pitches every year, and it's not easy, either. I'm very happy with the job I've done this year. I know what I do, and all my teammates and all my friends, they know the job I've done this year," he said. Second base umpire Paul Nauert (#39) observes as Danny Espinosa successfully tags Florida's Emilio Bonifacio during the third inning on Sunday, May 15, at Nationals Park in Southeast. The Nationals defeated the Marlins 8-4, their only win in the three-game series. / Photo by John E. DeFreitas