Bernard Hopkins Makes Boxing History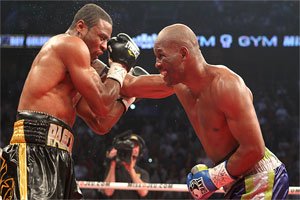 Bernard Hopkins Makes Boxing History
Bernard "The Executioner" Hopkins made history Saturday May 21, 2011 when he defeated Jean Pascal for the WBC and Ring Magazine Light Heavyweight Championship to become the oldest fighter in boxing history to win a significant world title. The 46-year-old ageless wonder broke the record previously held by George Foreman, who was 45 when he beat Michael Moorer for the heavyweight championship on November 5, 1994.
The fight, which took place in front of a sold out crowd in Pascal's hometown of Montreal, Canada, resulted in a unanimous decision victory for Hopkins as he wore down the young champion and landed more total punches. Hopkins and Pascal first met on December 18, 2010 in a bout which resulted in a highly contested majority draw in favor of Hopkins.
Hopkins' victory is not only significant for boxing, but for all sports as very few athletes have been able to compete and win at the level at which Hopkins did last night. He will look to defend his newly acquired title as he continues his storied career.
BERNARD HOPKINS & GEORGE FOREMAN POST-FIGHT QUOTES
Bernard Hopkins:
"[Beating the record] feels great. I did exactly what I wanted to do, which was break this record. I knew it was going to be a tough fight, but I wasn't going to be denied. You don't get a chance to do this too often. You are supposed to win titles when you are younger. In your twenties, not when you're 46.
"I didn't feel 46 tonight. I felt more like 36.
"I can say I am a great fighter. It was exciting. I think everybody enjoyed themselves.
"I have been accused of being boring, but I saved the best for last. I am going to fight like this as long as I am boxing. I believe I am an entertainer. When you are in your last performances, you give it all you've got.
"I want to box as well as I can, and I think there are still great fights to come before I leave this game.
"I give you breathtaking!
"I always fight with my heart, but I had to be careful too. I knew this guy was dangerous. He punched hard, but I knew I had to be strong too. Like I said before, I saved the best for last and gave you a blockbuster performance.
"I am going to keep fighting like this until I leave this game and trust me, when I leave, I will not be punch drunk, beat up or broke.
"I don't see anyone beating this strong bull from Canada. Coming from a veteran, he shouldn't load up on his punches. He needs to take advice from this legend and not throw his punches so strongly.
Newly crowned WBC, WBC Diamond and Ring Magazine Light Heavyweight World Champion Bernard Hopkins (Left) lands a left hand en route to a unanimous decision victory over former world champion Jean Pascal (Right) on May 21, 2011 at the Bell Centre in Montreal, Canada which, at age 46, made him the oldest fighter to win a world championship in boxing history.