Bernard Hopkins Makes Boxing History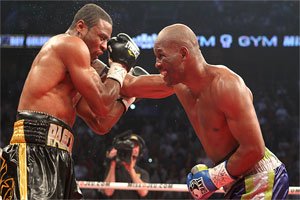 "He is a tough kid and he hit me with some good shots, but I am in tremendous shape.
"I think Canada will welcome me back to fight Bute. I want either Bute or Dawson.
"This is in the top two moments of my career, right there alongside beating Felix Trinidad and the relevance of that [it was 9/11].
"I showed him a little bit of Hearns, Wolcott and Ray Robinson, but mostly, I showed him me.
"Thanks to Golden Boy for getting this fight together after the first fight. We had to deal with a couple of things that worked out for everybody, especially the fans which is very important.
"I would like to thank everybody in Canada that gave me the respect. I hope it was what everyone wanted.
"He is a quality and respectful champion. He will be one of the ones that will stay around for a long time if he takes this education that he experienced tonight.
"Be happy I am still here because one thing we can say is that I am not wasting anybody's time. I went in there with a guy who that is young enough to be my son.
"[On doing push-ups in his corner] I just felt that I had to show that guy [Pascal] that he was fading and I was growing stronger. I wanted him to see me doing something crazy. I am the king of mind games.
"If I want to box until I am 50, I will as long as I come out unscathed. I will fight as long as I am hungry.
"If I don't win, this is over for me. I know there is no tomorrow. If I want to still box, I don't want to embarrass myself. I understand the stats are against me. I had to put myself in a situation where I had to be near perfect.
"I want to thank everyone for enjoying history.
"I talked to George Foreman on the phone. He said he might come out of retirement to break my record [laughs].
"If you thought tonight was something, you ain't seen nothing yet."
George Foreman's Reaction:
"I was on the edge of my seat every round. It was such an exciting fight. Bernard was the better athlete, the smarter fighter and was in the better condition. Now that a 46 [year-old] has done it, next a 47[year-old], a 48[year-old], a 49[year-old] and a 50 [year-old] will do it. And if somebody does it at 60, then I'll have to get back in there.
"Look, Hopkins did push ups. What great conditioning. And he did it in Pascal hometown. Isn't that something? He was just so much better. I'm happy for Hopkins and I'm happy for mature athletes.
"If my record goes down, you want to see it go down that way. If it was the Olympics, Bernard gets the Gold Medal and breaks the record for the World Championship. This was the best I've seen Bernard take charge of the fight with a young strong champion like Pascal. Long live the king."
"Dynasty: Pascal vs. Hopkins" was promoted by Groupe Yvon Michel Inc. and Golden Boy Promotions and sponsored by Casino de Montreal, Videotron and Coors Light. In addition to airing live on HBO's World Championship Boxing, the event was distributed live on pay-per-view in Canada on Canal Indigo, Bell TV, Shaw TV, Viewer's Choice and Sasktel in French and English.