Brown Accentuates the Positive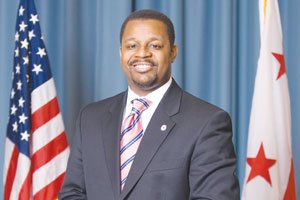 Insists that He's the People's Chairman
The chairman of the District's legislative body is focused on serving the people of the District the way he believes it would most benefit them.
D.C. Council Chairman Kwame Brown said that he will not imitate what past chairs of the D.C. Council have done.
"I am Kwame Brown," he said. "People know me. They say that Kwame Brown is the people's chairman."
Brown, 40, was elected to head the D.C. Council in the November 2010 general election, making him the youngest person selected by the voters of the District to have that position. He fought a bruising primary battle with Vincent Orange, who served with Brown on the D.C. Council as a Ward 5 council member from 2005-2007.
Brown, who was elected at-large to the D.C. Council in 2004, gave up his seat to become the chairman of the D.C. Council in late 2010 and tapped D.C. State Board of Education member Sekou Biddle from Ward 4 to take his place.
The D.C. State Democratic Committee ratified Brown's selection as his temporary replacement in January but the voters elected Orange, 54, to the position permanently on Tues., April 26.
Brown was criticized for his misuse of public funds to lease two luxury sports vehicles before he was officially sworn-in to office on Jan. 2. He has also come under fire for his 2008 re-election campaign in which tens of thousands of dollars have been unaccounted for, according to the D.C. Office of Campaign Finance.
Brown said that he's ready to move forward to help District residents, despite the distractions. However, he wants to make it clear that he is not Vincent Gray and he will do some things differently.
"I have worked with two past chairs of the D.C. Council," Brown said.
"Vincent Gray is the mayor and the first chair to become mayor. He is 28 years older than I and Linda Cropp is older than I."
Brown said that while Gray and Cropp have grandchildren, he still has small children. He said that while "Gray likes to play softball and Linda likes to knit, I like running, riding bikes, playing basketball and hot yoga." "I come from a different generation," he said.
"I can relate to the importance of keeping up the parks and how important it is for kids to have good middle schools."
Brown said that he has to be a home at a certain time most nights to see his children before they go to sleep.
"I cannot be here at the [John A.] Wilson Building at 3 a.m. in the morning for a hearing," he said.
Brown has moved forward on ethics reform by introducing a package that he put together along with the help of scholars at the Georgetown University Public Policy Institute.
"I recently introduced ethics reform and every single member signed on to it," he said.
Ken Fealing, a resident of Northeast, said that Brown's focus on ethics is commendable, considering the problems he's had in the recent past.
"Kwame Brown needs to show the people of Washington that he is a responsible council member," Fealing, 47, said. "He needs to redeem himself from his ethical problems."
There were concerns that Brown could not manage the strong personalities on his body, such as D.C. Council members David Catania (I-At-Large), Jack Evans (D-Ward 2) and Marion Barry (D-Ward 8).
Brown said that's not the case.
"I try to focus on having a civilized discussion on the budget whether the cameras are on or off," he said. "I think we accomplished that. Institutional leadership moved things forward, not backward."
Brown said that he is keeping in touch with residents via Facebook and Twitter, the first chairman to use those social media tools.
"We want to be open and transparent with the people," he said.
Alphonso Taylor of Southeast said that Brown's work on the D.C. Council may not be highly visible and that his reputation may be "a bit tainted" but he believes that the chairman will endure.
"I think he can come back," Taylor, 27, said. "If Marion Barry can come back, he can come back."