Mary's Center Opens in Ward 4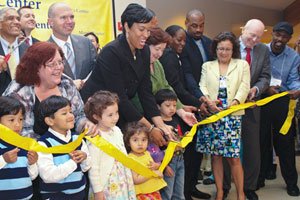 A well-known social services center that aids low-income families in the District opened a new site in one of the city's fastest growing neighborhoods.
Mary's Center, located in the Adams Morgan neighborhood of Northwest, is primarily known for catering to Latino families, but has moved east with a hub in the Petworth section of Ward 4 on Georgia Avenue in Northwest. The center had its grand opening on Wednesday, May 18 and attracted luminaries from the political, non-profit and sports worlds.
"I was proud to participate in the grand opening of Mary's Center," D.C. Mayor Vincent Gray said during his weekly press conference later that day.
"This center will help many families in the neighborhood. Mary's Center has helped District residents cope in many ways."
Gray, 68, declared the day, "Mary's Center Day" in an official proclamation.
Mary's Center, founded in 1988, is a non-profit, non-religious organization based in the District that provides comprehensive and integrated health care, education, and social services under one roof to help individuals and families who are in need. The president and chief executive officer of the center is Maria Gomez.
The Petworth site now becomes the largest of the three facilities operated by Mary's Center with 26,000 square feet of space. The center has 22 examination rooms and five dental chairs, plus new spaces for mental health, adolescent, home visitation, social services, the Special Supplemental Nutrition Program for Women, Infants and Children (WIC) and family literacy programs. The new facility will permit the center's staff to see more than 20,000 patients annually, up from about 11,000 per year.
The Petworth site officially opened for business on March 1.
In addition to Gray, and Gomez, the event attracted D.C. Council members David Catania (I-At-Large) and Muriel Bowser (D-Ward 4); Sharon Baskerville, chief executive officer of the DC Primary Care Association (DCPCA) and Washington Redskins quarterback Donovan McNabb. Baskerville said that her organization played a major role in the building of the facility.
"The DCPCA granted $11.625 million -- nearly 70 percent of the project costs -- as part of its Medical Homes DC grant program to Mary's Center," she said.
"This grant came with significant technical assistance from DCPCA's advisers in finance and real estate development."
The new center has a cozy feel to it, with gradations of pastel yellow and orange on the walls and in the furnishings. There are two huge displays near the entrance.
One display depicts the history of the center in black and white photographs. The other display is labeled "Special Guests" with color pictures of visitors who include former first lady Hillary Clinton; first lady Michelle Obama and U.S. Supreme Court Justice Sonia Sotomayor.
Lorett Pierre said she's happy that Mary's Center has opened in Ward 4.
Pierre, 39, lives in the Petworth neighborhood and visited the center on Saturday, May 21.
"I am six months' pregnant and I want to see a midwife," Pierre said.
"I went to Mary's Center in Adams Morgan for assistance. [Today], I'm happy it's [near my home] and convenient."