NNEKA
5/25/2011, 3:31 p.m.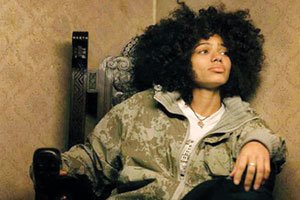 Ready to Take on the World
International recording artist Nneka made her Washington debut by slipping under the radar. In a show called "Nneka Unplugged" sponsored by Afrisonore, the 30-year-old Nigerian-German singer/songwriter/rapper played to a small, but highly appreciative audience at the Park at Fourteenth last Saturday, accompanied only by a keyboardist and guitar player. The rest; lead guitar, vocals and percussion, was done by this unassuming young woman, whose girlish looks belie her age and maturity.
Nneka Egbuna, whose first name means "mother is supermen" in the Igobo language, was born in Warri, Nigeria in 1981 and emigrated at age 19 to her mother's homeland in Germany.
"I live in Lagos, Nigeria and I am mixed-race, German and Nigerian," she said in a post-concert interview. "I grew up with my stepmother and my Dad, and my half-siblings. I got to know the white side of me only a couple of years ago. I lived in Germany for about six years, studied archaeology in Germany, started singing professionally in Germany and got my record deal in Germany and the whole career started professionally in Germany."
Nneka describes herself as somewhat of an accidental musician. "Nobody else in my family sings," she said in a lilting Nigerian accent. "I always liked singing, but it was never anything major. Just a hobby." She taught herself to play guitar and percussion, and says she is still learning. "I'm good enough to accompany myself, to support my vocals."
But when she immigrated to Hamburg, Germany as a teen, she found herself "living in an information facility, where you have lots of youths; orphans, drug-addicts and ex-drug addicts, asylum seekers and foreigners coming in. The intention of putting youths in that facility was to motivate them to be creative and find alternatives instead of doing negative stuff."
While there, she met other young people who were into rap, including a deejay from Afghanistan who she began to work with. "We just started putting our heads together and mixing it up," she said animatedly, waving her hands and gesturing. "It was a long process, a very long story."
Her latest release, Concrete Jungle, on the Epic label is her first US release, but her third CD. While she has a dedicated following worldwide, her work is far more familiar to Europeans and Africans than to American listeners, yet she has a number of videos out on YouTube that have gone viral.
Somehow, though, word got out about her talents, and she has traveled with Lilith Fair, the all-female showcase of musicians on the summer tour circuit, and recently came off of a successful "Distant Relatives" tour with Damien Marley and Nas that covered Europe and the Pacific including Australia, New Zealand and Japan, winding down in April in Lisbon, Portugal.
In between her prolific music-making, Nneka found time to star in "Relentless" an independent film by Nigerian filmmaker Andy Amadi Okoroafor, which deals with the consequence of wars on the psyche of the contemporary African, starting with the Nigerian/Biafran civil war into which the main character, Obi, was born--one of the first in a long list of conflicts that has distorted Africa.