Health Fair and Boxing in Benning Terrace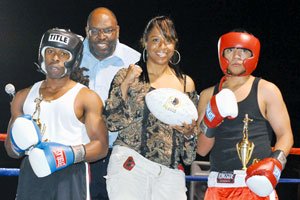 Health Fair and Boxing in Benning Terrace
Various community health and civic organizations came together to create a block party atmosphere in the Benning Terrace neighborhood in Southeast Washington.
It was indeed a festive mood as groups such as the Metropolitan Police Department, Children's Hospital, the DC National Guard and others showed neighborhood residents and others quality tips on how to live safely and securely.DC Police Chief Cathy Lanier was in attendance and happily posed for pictures with residents.Also "Antonio the Cuban Cigar Smoker" from WKYS-FM addressed the crowd and gave away CD's.Live bands rounded out this portion of the event.
The nightcap of the event was a showcase of local amateur boxing arranged by Babie Girl Promotions, a local boxing promotions firm headed by Cassandra White, one of the few female promoters in the country and the World Boxing Foundation's Promoter of the Year in 2009.
There were no winners or losers in the event as each participant received a trophy but many of the boxers were young kids who are involved in a very positive activity.
The list of boxers and their gyms are:
Jordan Barnett (Keystone Boxing, Marlow Heights, MD)
Keon Lockhart (Keystone Boxing)
Deon Giles (Dream Team, Clinton, MD)
Damon Burnette (Keystone Boxing)
Tiree Murphy (Keystone Boxing)
Tarell Burris (Dream Team)
Seth Billups (Craig's Gym, Ashburn, VA)
Derek Cannon (Club One Fitness, Millersville, MD)
Brandon Wright (Keystone Boxing)
Rommell Bethea (Dream Team)
Jay Cromwell (Dream Team)
Cory Matthews (Sugar Ray Leonard Boxing Center, Palmer Park, MD)
Ali Baity (Keystone Boxing)
Jovan Pierce (Costello's Gym, Philadelphia, PA
Aaren Pierce, Jr. (Costello's Gym)
Eric Hernandez (Craig's Gym)
Stalanza Greene (Keystone)
Brianna McNeal (Keystone)
Xavier Murphy (Keystone)
William Green (Dream Team)
Darren Brown (Keystone)
CJ Reeves (Craig's Gym)
Darius Jones (Craig's Gym)