B. Smith--More Than A Restaurant at Union Station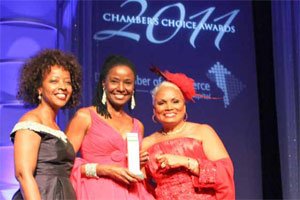 The New York Daily News has called her "one of the most important style mavens of all time." Restaurateur, designer, lifestyle expert, spokesperson, author, and model all are fitting titles for this multi-talented, multifaceted woman whose broad, bright and calming smile belies the myriad of projects occupying her mind.
It is "B. Smith, the entrepreneur" that probably garnered the attention recently of the D.C. Chamber of Commerce who honored her with its 2011 Chamber's Choice Award held Sat., October 22, 2011 at the Marriott Wardman Hotel in D.C.
"When someone says I want to honor you, it's amazing," said Smith, who has 40 years of experience as an entrepreneur. "It means people are understanding what you do and it says that everyone knows you worked hard to get there."
Barbara Smith, 57, has spent years ensuring that her businesses thrive, that people dining in her restaurants are comfortable and pleased with the food and service she provides, and that her home products reflect the B. Smith style. Along the way, she has made history as the first African-American woman to sell a home goods collection at Bed Bath and Beyond, a nationwide retailer. Smith is also a spokesperson for Colgate Palmolive Oxy products and supports the community through work with the U.S. military and the American Diabetes Association.
Christopher Wiggan, Sr., a partner in the accounting firm, Mitchell & Titus, in Northwest, said Smith deserves the recognition. "[The award] is significant for any firm in existence for over a decade [because it shows] she is doing something right," Wiggan said.
"[I'm] incredibly happy for her and can't think of a more deserving person. It's wonderful," LeVar Freeman, 31, added.
The D.C. Chamber's award to B. Smith has an added significance for Smith, the entrepreneur, because the partnership she enjoys with the chamber is one of added value. With businesses in the Hamptons, New York City, and the District of Columbia, Smith has come to rely on the D.C. Chamber to provide information on regulatory reforms that may affect her restaurant at Union Station. One of the Chamber's missions is to advocate for changes in federal and local laws that positively impact business growth and development. Smith supports this wholeheartedly.
Meanwhile, achieving the level of success Smith's businesses have garnered has not been a solitary effort. Dan Gasby, Smith's husband and business partner, has been instrumental in managing all aspects of B. Smith Enterprises.
Smith grew up in a household where her family did gardening, canned foods, and made homemade root beer. She said entrepreneurial spirit came after realizing that her mother could "decorate anything" and her father could "build anything."
"There is a certain determination that comes with an entrepreneurial spirit," said Smith. "[And that is] you intend to succeed. Come hell or high water, by any means necessary," Smith proclaims. "It means that you are going to work harder, you're going to work smarter."
Not being one to just watch things happen, Smith believes in making things happen. In recalling two of her most memorable disappointments - rejection for membership in a high school business club and being passed over twice to model for Ebony Fashion Fair -- Smith turned defeats into triumphs.
Smith, who started her own Future Homemakers of America club while still in high school, remained persistent with Ebony Fashion Fair until she eventually secured a modeling position that put her on the road to cities all across the country.
On the horizon for Smith is celebrating the 25th anniversary of her New York restaurant and hosting an event with the United Services Organization (USO) -- one of the many organizations she supports. Meanwhile, B. Smith is launching a new wine later this year.
Clearly, B. Smith's name is, and will continue to be, much more than a restaurant --considerably more!