Cain Talks Race, Presidential Contest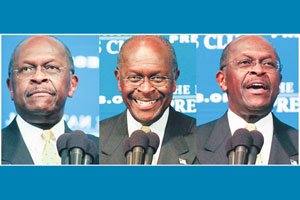 "When I became the CEO of Godfather's, I did not know how to make pizza," he said. Cain said that he talked with customers, staff, suppliers, and franchisers to get their perspective on what needed to be done to turn Godfather's around and "I will do the same as president."
While Cain has impressive numbers early in the presidential contest, David Bositis, a senior research associate at the Joint Center for Political and Economic Studies in Northwest, said that it might not even matter.
"It is 100-to-1 odds that he will get the Republican nomination," Bositis said. "He has never been elected to public office. He has a crackpot economic scheme."
Bositis said that Cain "is a black face that will make conservatives feel comfortable."
"I don't even see him as a vice presidential pick because he brings nothing to the ticket," Bositis said.
Nevertheless, Crystal Wright, a black Republican in the District, likes what she sees in Cain.
"He is talking as a businessman and with common sense," she said. "His 9-9-9 plan is easy to understand and it is simpler than Romney's 59-page economic development plan. Herman Cain is shattering perceptions about black conservatives among White conservatives and Blacks in general and I think a Romney-Cain ticket in 2012 is doable."