Moneywise Financial Empowerment Tour Comes to District Residents
WI Staff | 11/2/2011, 1:26 p.m.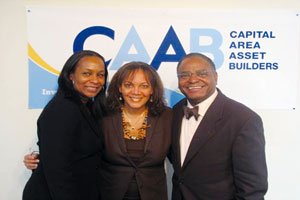 Capital Area Asset Builders (CAAB) and public television's Moneywise with Kelvin Boston have collaborated to produce the "Moneywise Financial Empowerment Tour 2011" and, according to organizers, it promises to present financial information that is both useful and timely in this challenging economic period. The all-day event, which is free to the public, includes free lunch and free parking until 5 p.m., takes place Saturday, Nov. 5, 8:30 a.m. to 5:30 p.m., at the Metropolitan AME Church in downtown D.C.
The Empower Tour features speakers from the public, corporate, and faith-based communities. Speakers include: Kevin Boston, author and host of "Moneywise with Kelvin Boston"; Marie Johns, deputy administrator, U.S. Small Business Administration; Rev. Dr. DeForest "Buster" Soaris, author of "Breaking Free of Financial Slavery"; and, Willie Jolley, author of "Turning Setbacks into Greenbacks."
CAAB Executive Director Maurita K. Coley said the event is intended to bring greater financial literacy to all people.
"While the income of D.C.'s poorest families has not risen significantly in two decades, the cost of living in D.C. has and many families are struggling to stay out of debt while making ends meet, Coley said. CAAB believes that anyone can become a college graduate, homeowner or successful business owner.
Saturday's Empowerment Tour will highlight panel discussions on a broad range of financial and economic topics that include:
Securing employment in this 21st century
Home ownership & housing assistance
Fighting foreclosure
From economic distress to financial success
Starting your own business
Financial planning, investing, and retirement
One-on-one credit coaching, financial planning, health and wellness demonstrations, prizes, raffles, exhibits, and live music performances will be available at Saturday's event, Coley added.
Recently, "Washington Informer News," a weekly television program produced by this newspaper, featured Linda Stroman, director of Financial Education for CAAB. Among other important pieces of information Stroman shared with viewers and listeners was "pay yourself first and get into the habit of saving money." Coley underscored Stroman's advice.
"Through its financial education programs, matched savings accounts, consumer education programs, and research and advocacy, CAAB is working to ensure that all District residents have opportunities to save and invest in their dreams," said Coley.
Event sponsors include: E*TRADE, the U.S. Small Business Administration, Citibank and the Metropolitan AME Church.
For more information and to register for the Moneywise Financial Empowerment Tour, visit CAAB's website at www.caab.org or call (202)419-1440.