NAACP Behind Efforts to Reverse Obesity Among Black Youth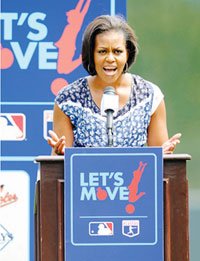 The National Association for the Advancement of Colored People (NAACP) is calling on the African American community to reverse a prevalent habit of severe over-eating, particularly among children and youths.
Studies by the Robert Wood Johnson Foundation and the Leadership for Healthy Communities (LHC) reveal that African-American adolescent girls face a greater risk of overweight and obesity than their white or Latino peers. The study also points out that overweight and obese African-American youths tend to suffer a higher risk of developing chronic illnesses-diabetes, high blood pressure and asthma - more than their white counterparts.
"Obesity has definitely become a civil rights issue, in that African-American youth traditionally have had limited access to fresh fruits and vegetables," said Hilary Shelton, Washington, D.C., Bureau NAACP director for advocacy. "We have something called a food deficit where our young people end up being relegated to fried foods and other processed foods that aren't good for them."
Shelton said that safe places for children to play and exercise, along with unhealthy food consumption, have become major concerns for many Africans-Americans in impoverished communities. In such communities, there usually are no stores that sell the fresh fruits and vegetables essential to health and diet, Shelton said. These are systemic quality of life issues that the NAACP seeks to address.
In noting that some 2 million children across the country currently grapple with obesity, Shelton said the NAACP has joined the bandwagon of support behind first lady Michelle Obama in the "Let's Move" campaign that was launched last year. The campaign, according to the White House Task Force on Childhood Obesity, aims to reduce childhood obesity rates from the current 17 percent to 5 percent by 2030.
"In Ward 5, our children are disproportionately affected by bad eating habits and lack of exercise," said community activist Kathy Henderson. "Behind Wards 8 and 7, we have the third highest obesity rates in the District." Henderson said prevalent conditions in the wards such as cancer and asthma are often associated with poverty and poor access to health care.
"Until we come up with a plan to really educate residents, we'll continue to see these kinds of health disparities," Henderson said. "People self-medicate with food and alcohol and other substances to alleviate the pain associated with poverty."
Henderson said she often observes shoppers who make unhealthy food choices. "[Shoppers] don't load up their carts with healthy foods like fruits and vegetables," she said. "They load up with meat, fatty products and snacks-all of which taste good-in an effort to make themselves feel better."
Henderson said now that the District has a budget surplus, health-conscious agency heads and others should find ways to better educate people about good eating habits. "That's the key to lifting people out of poverty," she said.
Cora Masters Barry, executive director of the Southeast Tennis and Learning Center, where youth participants are required to be physically active, agrees.
But she also places blame on lack of exercise programs built into school system curriculums.
"Back in the day, there used to be gym classes and organized exercise sessions at recess -- which don't take place anymore, "Barry said. "So these kids today are not even required or expected to engage in physical activity."
Barry said kids' leisure/physical activity has become virtually nonexistent. "They no longer ride bicycles or play football like neighborhood children did in the past." In the past two years, Barry admits, she has recalled seeing some youths become more conscious about eating healthy.
The Southeast Tennis and Learning Center, in Ward 8, places strong emphasis on teaching tennis and caters to about 100 youth ages 7 to 17. Every day youths participate in various learning projects that include fitness and nutrition. The facility also regularly holds seminars and workshops to educate youths and their parents on the benefits of healthy eating and exercise.
"We've seen less fattening foods, [whereas] kids are eating lunch bars and fruit cups instead of potato chips and sweets," said Barry. "I've seen the kids get used to healthy eating . They're uncomfortable -- even a little embarrassed -- when they show up with potato chips and other snacks that don't account for good nutrition. When they come in here with it, I've seen them hide it - which to me shows a consciousness."