D.C. City Council Approves Historic Jobs Bill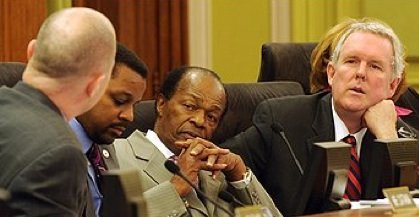 WASHINGTON, DC - The City Council voted unanimosly during its Nov. 1 legislative meeting to enact the "District of Columbia Workforce Intermediary Establishment and Reform of First Source and Living Wage Amendment Act of 2011."
Authored by Council Chairman Kwame R. Brown, the legislation, which amends the First Source Employment Agreement Act of 1984, was referred to the Committee on Housing and Workforce Development.
"I want to thank [At-Large] Councilmember Michael A. Brown and his staff for their significant work to shepherd this bill through the committee," said Brown.
Among the most significant changes to the hiring and reporting requirements are:
* Increased minimum dollar threshold for government assisted projects from $100,000 to $300,000,
* Separate hiring and reporting requirements for construction and non-construction projects receiving $5 million or more in government assistance,
* Rules for waiving hiring requirements and penalties that the mayor is authorized to impose if a beneficiary fails to comply,
* Workforce Intermediary Pilot Program required to be established by April 1, 2012 to match job seekers and employers,
* Beneficiaries allowed to "double count" hours for the "hard to employ," and
* Mandated analysis of hiring percentages at least every three years.
"These are much needed changes to enhance opportunities for unemployed District residents, and to encourage local businesses to hire DC residents first," said Brown. "I have made addressing the dire employment situation faced by many District residents one of my highest priorities."
The District is the center of one of the largest regional economies in the United States, and yet most District residents do not benefit from this economy. Approximately three-fifths of the 720,000 jobs in the District are held by non-District residents. Although there are many more jobs in the District than residents, historically DC has the highest rate of unemployment in the region.
In 2010, in spite of adding approximately 20,000 jobs, the District had a record 12 percent unemployment rate and joblessness was estimated to be at least twice that in communities east of the Anacostia River. In the same year, an audit of the Department of Employment Services found that the First Source program lacked sufficient monitoring, inadequate procedures, and a lack of adequate controls.
The legislation will have a second reading and vote in December.