UDC President Appointed to NCAA Council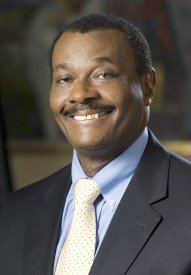 University of the District of Columbia (UDC) President Allen L. Sessoms has been appointed to the NCAA Division II President's Council.
The appointment exemplifies his leadership and experience in athletics and demonstrates the university's overall commitment to athletics and the role it plays in student life.
Sessoms,64, has extensive experience with intercollegiate athletics and the NCAA. He is a former NCAA Division II member of the NCAA Presidents' Commission, having served on the President's Council transition team. Under his leadership, the Athletic Department has dramatically built up its administrative bench with the hiring of associate athletic directors in NCAA compliance, internal operations, external affairs, academics and marketing and communications.
In July 2011, Sessoms along with Director of Athletics, Patricia Thomas, guided the University of the District of Columbia into membership in the East Coast Conference (ECC), marking the university's first conference membership.
"This is a great time for the University of the District of Columbia and the entire East Coast Conference", said ECC Commissioner Bob Dranoff. "Even though [the University of the District of Columbia is] one of our newest members, Dr. Sessoms is extremely committed to Division II and has a strong understanding of the value of intercollegiate athletics to the college community."
The NCAA Division II President's Council is a 15-member body of chancellors and presidents from the Division II membership. The council provides structure for priorities in Division II intercollegiate athletics matters and implements policies adopted by the Association Executive Committee. The council also directs policy of Division II, establishes the strategic plan for Division II, approves recommendations of Management Council and can ratify, amend, and rescind actions of the Management Council.