Black Marines on Way to Congressional Medals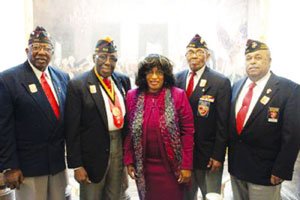 In 1941, President Franklin D. Roosevelt ordered the Marine Corps to accept blacks. The Marine Corps was the last military branch to do so.
The black Marines received their basic training adjacent to Camp Lejeune in North Carolina, where conditions were harsh and the treatment from their fellow Marines could be even harsher. The black Marines were not allowed to enter Camp Lejeune unless accompanied by a white officer. In the few times they participated in training exercises, they could not eat until the white Marines had finished. They were routinely passed over for promotions.
About 19,000 men trained at Montford Point between 1942 and 1949. Most have since died. Eugene Groves, a staff sergeant who fought in Korea, was one of four Montford Point veterans on hand for the vote Tuesday. The lawmakers gave the four a standing ovation shortly before the vote.
Groves, who trained at Montford Point in 1946, said he appreciated the recognition. He served in the Korean War and said he felt for a time like the Marine Corps did not want to acknowledge the Montford Marines service.
"They did not want us involved in the history," Groves said. "It's been a hard fight."
More than 300 lawmakers were co-sponsors of the legislation, providing Republicans and Democrats with a rare moment of bipartisanship. Lawmakers from both parties spoke in favor of the resolution.
"This is a proud victory for the Montford Point Marines, as this Gold Medal will forever anchor their role in the history of our nation's great military." said Cong. Brown.