Dance Institute of Washington Honored at White House Ceremony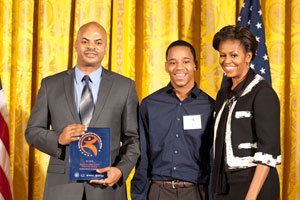 In a private ceremony at the White House, First Lady Michelle Obama presented a 2011 National Arts and Humanities Youth Program Award to the Dance Institute of Washington (DIW). DIW's after-school program, Positive Directions Through Dance (PDTD), was recognized as a community-based arts and humanities program that transforms the lives of their participants by combining quality dance training with life skills, including financial literacy and obesity prevention.
"We are thrilled and humbled to have Positive Directions Through Dance recognized with this distinguished award," said Fabian Barnes, founder and artistic director of the Dance Institute of Washington. "The National Arts and Humanities Youth Program Award is the highest honor in the nation for programs like ours, and we are moved that the President's Committee on the Arts and the Humanities has chosen to acknowledge projects that energize young minds with new opportunities."
Barnes, 51, a former soloist with the renowned Dance Theatre of Harlem and DIW founder, developed a philosophy based on his own experiences growing up in Seattle. Having discovered dance at an early age, he learned that the structure and discipline of studio work propels individuals forward in everyday life. Now, as he instructs PDTD participants, who are often at-risk or underserved youth, he not only teaches the beauty and technique of dance, but also provides them with a structured environment with opportunities to develop talent, confidence and discipline.
The program is offered free of charge to youth from low-income neighborhoods in the District of Columbia. The program provides participants with a combination of high-quality dance training along with life-skills programs to help at-risk youth mature and succeed in their social, academic and professional endeavors.
Participants' training includes job readiness and nutrition education. It also provides a safe and structured haven after school, on weekends and evenings for children and youth in some of the most at-risk urban settings. Last year, 100 percent of the program's participants graduated from high school or advanced to their next grade level.
PDTD students who captivate those attending with a thrilling performance./Photo courtesy of Steven E. PurcellDaniel Artis, 17, a PDTD student and junior at Fairmont Heights High School in Prince George's County, accompanied Barnes to the White House to accept the award.
"I felt blessed to have the chance to be at the White House; it was a once-in-a-lifetime opportunity," Artis said. "Having the chance to accept this award from the first lady of the United States in the White House on behalf of the Dance Institute of Washington is overwhelming. It's an incredible experience that I'll never forget. I am proof that the power of arts programs like Positive Directions Through Dance changes kid's lives."
Today, the DIW is housed in a new state-of-the-art dance center in the heart of the Columbia Heights neighborhood. It houses a year-round, pre-professional school with education outreach initiatives throughout the city with studio classes in creative movement, hip-hop, ballet, tap, jazz, modern, and African dance.
The program engages youth in outreach programs, student public performances, participation in a Youth Repertory Ensemble -- providing students the opportunity to perform with national and local choreographers, and Reflections Dance Company.
"We use dance as our vehicles but the outcomes that we are trying to promote are transferable skills of discipline and passion," Barnes said. "This notion that the arts - music, dance, theater and fine art - is for people who can afford it is not [true], it's for everyone, and it's important."