Derrick Davis Fills Council Seat in Prince George's County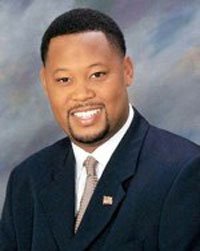 The newest member of the Prince George's County Council, Derrick Leon Davis (D) - District 6, was administered the oath of office on Nov. 8 by Clerk of the Circuit Court Marilynn M. Bland during a swearing-in ceremony in the Council Hearing Room in Upper Marlboro,Md.
Council Member Davis won a special election to fill the District 6 Council seat left vacant by the resignation of Leslie Johnson in July 2011. He encouraged District 6 residents to look forward.
"This day is about our future--about how we keep working, growing and progressing together," said Davis. "How we invest in Prince George's County and in each other. It's about what unites us and moves us forward."
In remarks to family, friends and District 6 residents assembled in the Council Hearing Room, Davis thanked his supporters and recognized his mentor, former County Council member the Honorable JoAnn Bell.
"I want to thank each of you for supporting me on every leaning side in this journey to fulfill my life's purpose--public service, said Davis. He added, "I will forever be indebted to my mentor, the Honorable JoAnn Bell, for teaching me to navigate County Government, hold agencies and departments accountable, and help residents solve issues in their communities."
Davis reaffirmed his strong commitment to education, and to the success of young people in Prince George's County.
"I am absolutely passionate about enhancing the quality of public education, and creating a successful future for our young people in Prince George's County. I am ready to introduce exciting new ideas and concepts for improving our schools and I look forward to this legislative platform to make change happen."
Following a reception, the County Council convened and Davis participated in his first County Council meeting.
Thanking them for their support, he says he is ready to work with his Council colleagues and County Executive Rushern L. Baker, III. "I offer you my hand in friendship and partnership, pledging to be a leader and team member; to contribute creativity and energy to our processes; and to work and study hard to improve the quality of life for our citizens and residents."
A lifelong Prince George's County resident, Davis is a graduate of Central High School and the University of Maryland Eastern Shore. Previously, Davis held the position of Head Start program manager with Prince George's County Public Schools. Under his leadership, student classroom hours doubled and new program sites were added throughout Prince George's County.
A member of the First Baptist Church of Glenarden and the Omega Psi Phi fraternity, Davis lives in Mitchellville with his wife, Sherry.
The District 6 constituent areas include South Bowie, Capitol Heights, District Heights, Forestville, Kettering, Largo, Mitchellville, and Upper Marlboro.