Protesters Gather to Voice Opposition to BP Compensation
Khalid Naji | 11/9/2011, 9:20 p.m.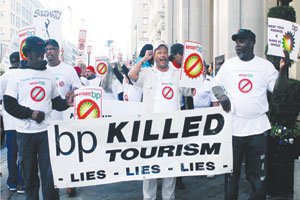 Dozens of Gulf Coast region protesters, Occupy D.C., and other demonstrators took to the streets of the nation's capital Monday, Nov. 7, to march, rally and voice their concern because, according to organizers, Kenneth Feinberg, British Petroleum's (BP's) Gulf Coast compensation fund administrator, has not been transparent enough nor has he responded adequately to Gulf Coast residents hit hardest by the BP oil spill.
Monday's demonstration was a continuation of a series of protests that began the day before with rallies in front of the White House.
"On Sunday, we joined a picket around the White house on the [issues] until President Barack Obama begins to answer the needs of this coalition and encourage the urgency of the claims to be paid in the Gulf Coast Region headed by BP Claims Czar Ken Feinberg." said, Art Rocker, chairman of Operation People for Peace, Inc. "We are marching in front of Ken Feinberg's office, on Monday [Nov. 7] to determine when he is going to provide payment to the underserved and underrepresented in the Gulf Coast Region."
Rocker said the key protest issues involved clean air and clean water, unpaid BP claims, and the development of a regional coalition citizen advisory committee that has Gulf Coast compensation claims oversight.
Comedian and Human Rights Activist Dick Gregory joins the Operation People for Peace protest on Freedom Plaza Monday, Nov. 7, 2011 following a demonstration in front of the Washington office of BP's Gulf Coast compensation fund administrator, Kenneth Feinberg. Feinberg is in charge of handling payments to those directly affected by last year's Gulf of Mexico oil spill and protestors charge that the company has been slow in issuing out payments and unfairly denying many claims./Photo by Khalid Naji-AllahActivists Dick Gregory , Dr. E. Faye Williams and other local District officials helped lead protesters outside the Willard office building adjacent to the Willard Hotel in the District. Gregory vowed to continue to boycott BP and work with protesters to bring about a solution in settling more than 10,000 claims in the gulf coast region.
Williams, national chair of the National Congress of Black Women (NCBW), supports Gregory.
We are forming a number of coalitions." says Dr. E. Faye Williams "I am going to work closely with the OCCUPY groups and our group to push for picketing and boycotting BP until these claims are paid."
According to the Associated Press, the gulf coast oil spill was "the worst oil spill in U.S. history."Occupy D.C. supported Gulf Coast protesters Monday, Nov. 7, 2011, as all protesters called for greater transparency in handling compensation claims./Photo by Roy Lewis